7/7 inquests: 'Lindsay asked lover along to London'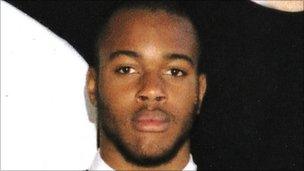 One of the 7/7 bombers asked his lover to spend the night with him in London on the eve of the attacks which killed 52 people, the inquests have heard.
Jermaine Lindsay started a relationship with Nicki Blackmore, 17, just over a fortnight before the bombing.
When she asked him if he was free on 14 July 2005, he said: "I might be around then, but then again I might not."
The inquests also heard Mohammad Sidique Khan left a will in which he apologised to his wife for lying.
Lindsay, 19, was one of four suicide bombers who killed 52 people on 7 July.
On Monday, the inquests began hearing a week of evidence about their backgrounds.
The court heard Miss Blackmore met Lindsay - whom she knew as Tyrone - at a boxing club at the Quarrendon Community Centre in Aylesbury, Buckinghamshire, on 20 June.
They met up again later that night, and 20 minutes after dropping Miss Blackmore off, Lindsay texted her and asked if she would like to start a relationship.
She replied: "Yes, but nothing serious because we have only just met."
The court heard that the next day Lindsay asked Miss Blackmore if she could get him a gun because he was planning to go to London to "teach some people a lesson".
Miss Blackmore said she was with Lindsay when he apparently received a phone call from 7 July ringleader Mohammed Sidique Khan at just before 1300 BST on 25 June which agitated him, the hearing was told.
Later, she asked him what was wrong.
"He tried to control his temper and said that he needed to prepare himself. I asked him what did he need to prepare himself for, and he said, 'shooting the people who need to be taught a lesson in London'," she said.
The inquest heard that Lindsay took part in a reconnaissance mission to London with Mohammed Sidique Khan and fellow bomber Shehzad Tanweer on 28 June.
Later Lindsay sent Miss Blackmore a text message to say he had wounded his back in the shooting but not seriously and had not fired his gun because he feared for his life.
Lindsay also read her poetry praising al-Qaeda, declared he loved her "more than you can imagine" and described her as his "cheeky princess".
When he asked her if she wanted to stay in a hotel in London on the night of 6 July, Miss Blackmore initially agreed but changed her mind.
It was only when she saw Lindsay's picture on 17 July that she realised he was one of the bombers, the court heard.
In her statement, Miss Blackmore stressed that she had no sexual contact with Lindsay during their brief relationship and did not know he had a wife and daughter or was planning the suicide attack on London.
The inquests also heard that the plot's ringleader, Mohammed Sidique Khan, left a will in which asked her to understand what he did.
Khan, 30, also said leaving his baby daughter behind when he blew himself up on a Tube train at Edgware Road station in London was "the most difficult thing in my life".
In the will, he wrote to his wife Hasina Patel: "You have been very patient with me even though I never told you what I was doing and often lied to you. I know you trusted me and for that I thank you.
"Please forgive me for the deceit, lies and my absence, it was to please Allah."
Addressing his baby, he wrote in the will: "The most difficult thing in my life was to leave you...
"I ask you to forgive me for not being a part of your life in this world."
Earlier, the inquest heard that Khan had cut his ties with a bookshop after it refused to stop stocking lectures by a scholar who condemned suicide bombings.
Mohammad Sidique Khan and fellow bomber Tanweer were heavily involved in setting up the Iqra Islamic bookshop in Beeston, Leeds, which stocked extremist literature, and it became the centre of his activity after 2002.
But he stopped attending in protest at the sale of cassettes of sermons by Hamza Yusuf, who described suicide bombings as "un-Islamic".
Related Internet Links
The BBC is not responsible for the content of external sites.