Royal wedding: Kate and William to visit Canada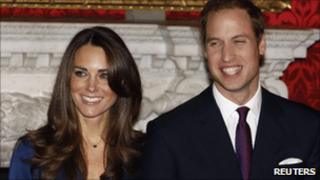 Prince William and Kate Middleton will make their first official overseas trip as a married couple to Canada in late June, St James's Palace has said.
The royal couple are expected to travel across the Commonwealth nation during their visit from 30 June to 8 July.
They will visit Alberta, the Northwest Territories, Prince Edward Island, Quebec and the capital, Ottawa.
Canadian PM Stephen Harper said it was a testament to Canada's "very close relationship with the Royal Family".
He invited the couple to Canada after they announced their engagement in November.
A spokesman for St James's Palace said: "Prince William was pleased to accept an invitation on his and Miss Middleton's behalf from the government of Canada.
"Prince William was keen to be able to visit Canada for himself as an adult, and to be able to show his wife a country that is close to his family's heart."
William, 28, and Kate, 29, will marry at Westminster Abbey on 29 April.
During their first official trip, it is believed the Prince and his royal bride will take part in Canada Day celebrations in Ottawa on 1 July.
Mr Harper, who is likely to host an official banquet in their honour, said he hoped their tour would be "the start of a lasting relationship with Canada by the royal couple".
"Canada looks forward to welcoming the young couple this summer and providing them with all that our country has to offer - including, of course, the special hospitality and warmth reserved for members of the Royal Family," he said.
William visited the Commonwealth country in 1998 aged 15, touring Vancouver with his father the Prince of Wales and brother Prince Harry.
The Queen visited Canada last July, and in 2009, Prince Charles and the Duchess of Cornwall spent 11 days there.