Gay church 'weddings' move closer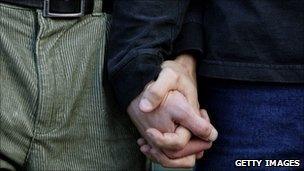 The government has announced plans to allow churches in England and Wales to host civil partnership ceremonies.
Ministers sought greater "equality for lesbian, gay, bisexual and transgender people", but said no religious group would be forced to host the ceremonies.
The Church of England has said it will not do so. Quakers have welcomed the plans, with support also expected from Unitarians and Liberal Jews.
Gay rights campaigners have welcomed the move but want full marriage rights.
Equalities minister Lynne Featherstone said there was "a real desire to address the differences between civil marriage and civil partnerships".
The government plans, which are being introduced as part of the Equality Act, would also see straight couples allowed to become civil partners.
Home Secretary Theresa May said: "This government is committed to both advancing equality for lesbian, gay, bisexual and transgender people and ensuring freedom of religion for people of all faiths.
"We will be allowing religious organisations to host civil partnership registrations if they choose to do so."
Leading Christian groups asked for reassurance they would be protected from legal action should they refuse to hold civil partnership services.
In a statement, they said: "Christians will need a great deal of reassurance that the government is not about to do something that will make their situation even worse.
"We reiterate our long-held opposition to allowing civil partnerships to be registered in churches."
The statement added that the latest proposal was "a breach of undertakings made by government ministers during debates on the Civil Partnership Bill".
It said: "Parliament was persuaded to pass that bill, in part, because it was made clear that civil partnership was a civil rather than a religious institution and would not take place in religious premises."
Mrs May, who is also women and equalities minister, said: "No religious group will be forced to host a civil partnership registration, but for those who wish to do so this is an important step forward."
The Christian groups behind the statement include Affinity, the Christian Institute, Christian Concern, Reform and the Fellowship of Independent Evangelical Churches.
Gay rights charity Stonewall welcomed the latest proposal, but said it was disappointed the government was not yet starting consultation on the extension of marriage to gay people.
Ben Summerskill, the charity's chief executive, said: "If there's a genuine commitment to making progress in this area, it is painfully slow."
The Reverend Sharon Ferguson, of the Metropolitan Community Church in Camden, north London, said the UK ban on gay marriage was "sexual apartheid" and "totally unacceptable".
Her church already conducts blessings of civil partnerships, and would immediately begin hosting the partnership ceremonies if they became legal, she said.
But she added that she and her girlfriend, who met through the Church, refused to enter into a civil partnership and were determined to wait until they could get married in church.
"I haven't spent my life dreaming of having a civil partnership - I've dreamed of getting married. That's what it's about," she said.
"I am yet to see three- or four-year-olds in kindergarten playing at having a civil partnership - they play at getting married."
She and her girlfriend are among eight couples involved in the Equal Love legal challenge, made to the European Court of Human Rights, against the UK's ban on gay marriages and heterosexual civil partnerships.
Miss Ferguson added: "God is as much part of my relationship as God is essential to every other aspect of my life - so when I am making the biggest commitment of my life, I want to do that with God as part of that."
The Church of England, the country's largest denomination which gets more than a million people every week at its Sunday services, has said it will not host blessings for civil partnerships.
"The important thing now is for the proposed regulations to make it clear that there is genuine freedom for each religious tradition to resolve these matters in accordance with its own convictions," a spokesman said.
The Roman Catholic Church has long held that homosexuality is a "deviation" and is not expected to agree to same-sex ceremonies.
There are as many as five million Catholics in Britain, but only about one million attend church regularly.
The groups sympathetic to the possibility of same-sex civil partnership ceremonies - Quakers in Britain, Liberal Judaism and Unitarianism - have a total of up to about 40,000 followers in the UK.
Quakers in Britain was "delighted" by the announcement, said spokesman Michael Hutchinson.
He said: "We ourselves see no distinction between heterosexual or homosexual in terms of commitment and wish to move further to allow legal marriage for same sex couples, but this is a welcome step along the way to full equality."
The move follows an amendment to the former Labour government's Equality Act by Lord Alli, a Labour peer, allowing partnership ceremonies to be held in places of worship if the religious groups concerned permit it.
Related Internet Links
The BBC is not responsible for the content of external sites.