House of Lords committee calls for fewer TV adverts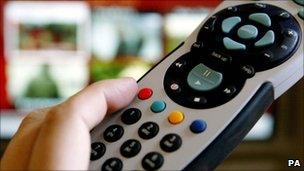 Peers have called for a reduction in the number of TV advertisements, saying they are not in viewers' interests.
They want satellite and cable channels to cut the average number of minutes sold per hour from nine to seven, in line with public service broadcasters.
The House of Lords communications committee said the current rules should be changed by the time the digital switchover is completed next year.
But the advertisers' body, ISBA, said it went against regulators' views.
The existing rules for public service commercial broadcasters - ITV1, Channel 4 and Channel Five - allow up to eight minutes of advertising an hour as long as they average seven minutes across the day.
But other channels, such as Sky's, can sell up to 12 minutes an hour, with a nine-minute average - a ruling originally allowed to help them establish themselves.
The committee said it was time to level the playing field.
"It is time to put the television viewers' interests first," said chairman Lord Clement-Jones.
"The committee feels strongly that changes are needed to the regulation of television advertising and that our recommendations would encourage... quality original UK television programmes."
He also called on ITV's bosses to deliver on their commitments to increase investment on quality programming and in training, but offered some assurances.
"We are conscious of the pressures and commercial realities of the industry, and if the television advertising regime is to be changed, the binding undertakings that we recommend would be rigorously upheld," he said.
But advertisers have urged the government to treat the report with the caution.
ISBA said it was not in the economic interests of broadcasters - and went against the views of three statutory regulators.
Related Internet Links
The BBC is not responsible for the content of external sites.