Newspaper review: Forests decision triggers debate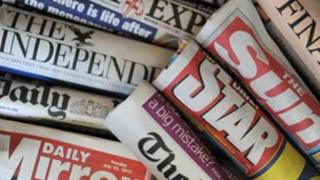 News that ministers are to axe plans to sell-off England's state-owned forests triggers much debate in the papers.
The Independent says David Cameron has humiliated his Environment Secretary, Caroline Spelman, and shocked MPs.
Under the headline "forest farce", the paper says the abandonment of the policy follows a furious backlash.
The Guardian says it is the biggest government U-turn since the general election, and the Times says the policy has united people in opposition.
'Hopes sink'
Nearly all the papers cover the new high in youth unemployment, with one in five 16 to 24-year-olds now jobless.
The Times tells us the "hopes of a million young Britons sink".
"Young, free and jobless" is the Daily Star's headline, while the Sun says ministers have been warned that a generation of kids face the scrap-heap.
The Independent, meanwhile, claims "the beast of joblessness remains at large", inflicting damage on hundreds of thousands of lives.
Decency call
There was strong reaction to news that sex offenders can appeal against having to register with police for life, as a Supreme Court ruling is adopted.
The Sun calls it a "perverts' charter" and demands the government "finds the guts" to stand up for decency.
For the Daily Express it is another reason to leave the European Union and the "insane" jurisdiction of the European Convention on Human Rights.
But the Times argues that sex offenders deserve the right of appeal.
Sprouting crisis
The first scientific link between global warming and extreme weather in the UK is reported in the Independent.
It tells us rising greenhouse gas emissions made severe flooding in the autumn of 2000 twice as likely.
The Financial Times says regulators may get new powers to ban retail products when the Financial Services Authority is broken up into three bodies next year.
Finally, the Daily Telegraph says the middle classes face a crisis - a shortage of purple sprouting broccoli.