7 July inquests: Coroner 'must not be gagged'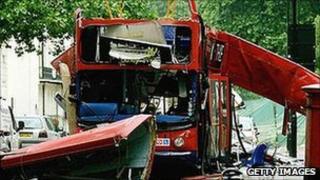 Lawyers for families of the 7/7 victims say the coroner must not be limited in the possible inquests verdicts.
Counsel for the bereaved said they wanted coroner Lady Justice Hallett to give an extensive narrative verdict.
But both MI5's legal team and the inquests' own lawyers say there has to be "brief, neutral and factual" verdicts on the 52 people who died.
The inquests, finishing next month, will soon hear what the security services knew about the killers.
In legal argument on Thursday, lawyers for the families said that they wanted the verdict to include the question of whether the security services - meaning MI5, the Metropolitan Police and West Yorkshire Police - had failed over the London bombings.
Patrick O'Connor QC, for the families, said: "The public may well be quite astonished if... we were literally kept to the kind of one-, one-and-a-half-, two-sentence verdict in the inquisition that is suggested by some."
He said: "The statue of justice is very often depicted blindfolded, but never gagged."
Mr O'Connor said Lady Hallett, who is sitting without a jury, should be free to give a long narrative verdict.
Lawyers for the bereaved relatives said in written submissions to the inquest: "The families we represent want a meaningful end result - an explanation about what exactly happened to their loved one; what, if anything, went wrong pre-7/7 and on the day; laying to rest unjustified concerns or suspicions; and for any appropriate recommendations to be made by the coroner to ensure that lessons are learned from their loved ones' deaths.
'Answers wanted'
"What they do not want is a sterile, bare conclusion of 'unlawful killing', accompanied by the likely time of death and basic registration details only.
"They want an end result which reflects the evidence over the five months of the hearings, and, to the extent possible, answers their questions about their loved ones' deaths."
Neil Garnham QC, for the Home Secretary and MI5, argued it was "clear" that a narrative verdict was permissible.
"But it would have to be short in the sense that you could not prepare a detailed factual statement, and it would have to be factual and neutral in the sense that it could not include statements of opinion or judgement," he said.
Hugo Keith QC, counsel to the inquests, who in practical terms plays a neutral role in assisting the coroner's work, said that the Home Secretary's position was supported by case law.
He said that an important 1995 Court of Appeal ruling limited the possible scope of coroner's verdicts.
"We agree with my learned friend Mr Garnham that the narrative must be brief, neutral and factual and not contain any expressions of judgment or opinion," he said.
Under a further power, known as Rule 43, coroners can write to people or organisations involved in a death and make recommendations which they think will prevent further deaths.
The bombings were carried out by Mohammad Sidique Khan, 30, Shehzad Tanweer, 22, Hasib Hussain, 18, and Jermaine Lindsay, 19, on three Tube trains and a bus.