Newspaper review: Welfare reforms pored over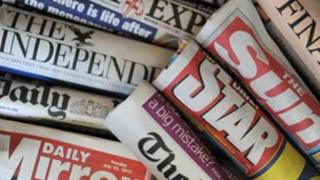 The government's newly announced plans to reform welfare to "make work pay" are pored over in most of the papers.
The Daily Express said it welcomed the sanctions against those who turned down jobs, the benefits cap and tax breaks.
But the Guardian thinks the "new poor law" should step back from the blueprint for a universal credit.
"Well un-fare" is the Daily Mirror's verdict, as it accuses the Tories of hitting 1.7 million people with "the harshest welfare shake-up in 60 years".
'Non-job war'
David Cameron and Nick Clegg go head-to-head with opposing articles in the Daily Mail on voting reform.
The PM likens democracy under the Alternative Vote (AV) system to winning an Olympics race and getting a bronze medal, while second place gets gold.
But Mr Clegg says under the current system most people are represented by someone most people did not vote for.
The Daily Telegraph, meanwhile, says there is to be a war on council "non-jobs" which "exploded" under Labour.
'Madeleine lead'
Shadow chancellor Ed Balls tells the Financial Times the Bank of England's Governor, Mervyn King, should "step out of the political arena".
Meanwhile, as protests continue in the Middle East, the Independent considers the "old dilemma" of whether to prefer stability over democracy.
The Sun claims an investigator has told police Madeleine McCann was taken by a paedophile ring and is now in the US.
He says he has given police the names of two suspects.
Oh boy!
The Daily Mail reports that children's TV presenter Johnny Ball claims he is the victim of a "hate campaign" after comments sceptical of climate change.
The Daily Express is among the papers to report on Rod Stewart and Penny Lancaster's celebrations of their second son - his eighth child.
Finally, the Sun has visited Crawley Town's car park ahead of the "minnows" FA Cup match with Manchester United.
It notes the combined value of all their cars is worth less than a single Audi R8 in United's car park.