Dozens of Bahrain arms licences revoked after review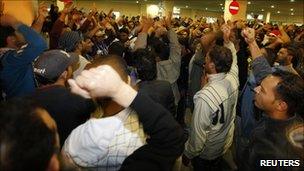 Dozens of licences for the export of arms to Bahrain have been revoked after a Foreign Office review amid fears over the suppression of protests there.
Some 24 individual licences and 20 open licences for Bahrain were revoked and eight individual licences for Libya.
The Foreign Office said there was no evidence UK equipment had been used in the military crackdown on protesters.
A Foreign Office statement said: "In light of recent developments, the Foreign and Commonwealth Office has changed its travel advice to advise against all but essential travel to the Kingdom of Bahrain."
The UK amended its travel advice for Libya in the wake of ongoing demonstrations there.
Officials are advising against all but essential travel to Benghazi, Ajdabiya, Al-Bayda, Al-Marj, Derna, Ajdabiya and Tobruk.
In Bahrain on Thursday four people were killed when riot police attacked anti-government demonstrators.
Commenting on the review of arms export, Foreign Office minister Alistair Burt said: "As a result of the changing situation in Bahrain, we have conducted an immediate and rapid review of UK export licences.
"With advice from the Foreign and Commonwealth Office, the Department of Business, Innovation and Skills, the licensing authority has taken a decision to revoke 24 individual licences and 20 open licences for Bahrain."
A "separate decision" was taken to "revoke eight individual licences for Libya", he said.
The minister, who said a review of export licences to the wider region, including Yemen, is ongoing, added: "This government takes extremely seriously its export control responsibilities.
"The longstanding British position is clear: We will not issue licences where we judge there is a clear risk that the proposed export might provoke or prolong regional or internal conflicts, or which might be used to facilitate internal repression."
'Transparent investigation'
Human rights organisation Amnesty International had urged Britain to suspend arms exports to Bahrain immediately.
According to activists, Bahraini security forces opened fire on anti-government protesters, witnesses and opposition supporters on Friday.
The protesters were fired on after they had gathered in the capital Manama from the funerals of demonstrators killed in a security crackdown earlier this week.
Foreign Secretary William Hague said he was "alarmed" by the latest reports but welcomed news that King Hamad has promised a national dialogue "with all parties".
Mr Hague said: "The circumstances of what happened are not yet clear, but I call on the Bahrain authorities to avoid violence and the use of excessive force and to exercise restraint.
"The right to freedom of expression and freedom of assembly must be respected. The Bahraini government should move quickly to carry out its commitments to a transparent investigation into recent events and any alleged human rights abuses."
He added: "Bahrain should take further steps on reforms that meet legitimate aspirations for greater social and political freedoms."
Earlier, Labour leader Ed Miliband described the thousands of people protesting against the rulers of Bahrain as "enormously courageous and brave" and backed the government's review of arms sales to the country.
Related Internet Links
The BBC is not responsible for the content of external sites.