Newspaper review: Dramatic accounts of Bahrain protests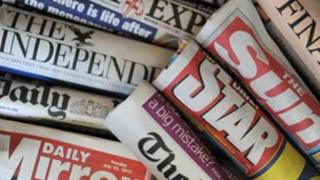 The newspapers carry dramatic accounts of the latest crackdown on anti-government protests by security forces in Bahrain.
Two demonstrators are pictured on the front page of the Independent.
Their arms are outstretched as they faced armoured vehicles in the centre of the capital, Manama.
The Independent's correspondent Robert Fisk says the revolution in Egypt is on everyone's lips, with many in Bahrain saying they have lost their fear of the police and the army.
The Guardian carries the defiant words of one protester: "We don't care if they kill 5,000 of us. The regime must fall and we will make sure it does."
'Movement spreading'
The Daily Telegraph describes how protesters in Bahrain were met with tear gas and bursts of live ammunition.
According to the paper, paramedics at the scene were also shot at as they darted forward to help the wounded.
The Financial Times warns the autocratic rulers of the Middle East that repression is only sharpening the hunger for regime change.
The Times says 2011's equivalent of the fall of communism in 1989 is spreading like water pouring from a broken dam.
'Decisive blow'
The Daily Mail welcomes the High Court's decision to block a legal move by prisoners seeking compensation for not being allowed to vote in last year's general election.
The paper describes the ruling as a "decisive blow" for the authority of Parliament over the European Court of Human Rights and what it calls the "legal vultures" demanding millions of pounds in compensation for inmates.
The Sun calls for loud cheers for the judge. The Daily Express applauds him for scoring a victory for common sense.
Wedding invitation
Guess who's not invited to the wedding? asks the Daily Telegraph.
It says Sarah, Duchess of York, has not been asked to attend the marriage of Prince William and Kate Middleton at Westminster Abbey in April.
A spokesman for the duchess tells the paper that she "never expected to be invited or attend".
The Daily Mail says the duchess was "snubbed" as about 1,900 invitations were sent to family, dignitaries, charity workers and friends.