Newspaper review: Protests at home and abroad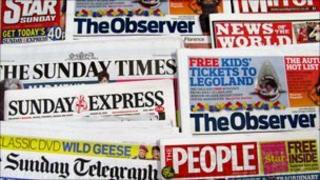 Many of the papers focus on the unrest in eastern Libya - with the Sunday Telegraph describing what it calls "brutal scenes" in the country's second city of Benghazi.
The Sunday Times says Colonel Gaddafi has mobilised three of his sons to quell the uprising.
The Mail on Sunday believes the Libyan leader now faces the "most serious challenge" of his 41-year rule.
The Observer says Britain's "risky and controversial" relationship with Libya is rapidly starting to unravel.
'Quell discontent'
The Independent on Sunday sums up the problems facing the prime minister, in the wake of U-turns on forests, housing benefit and debt advice.
The newspaper says a "rush for early reforms has created ill-thought out policies".
The Observer reports that senior Conservative MPs have urged David Cameron to re-shuffle his cabinet to quell discontent in the party.
It says some MPs concluded that the government did not appear "competent".
Elderly abuse
The News of the World says 35 life-saving maternity and Accident and Emergency wards that the Conservatives pledged to save are to be axed.
It says David Cameron had promised to keep open the wards but now they are to be closed in government cutbacks.
Nurses and inspectors are being sent to hospitals to "stamp out" abuse of the elderly, says the Sunday Express.
It follows a report which found elderly people were being left hungry and in soiled clothes while in hospitals.
Baby-boomers
The Independent on Sunday reveals the existence of unpublished government research suggesting that plastic bags might not be an eco-villain after all.
It says the bags are - for each use - actually less damaging than "greener" alternative such as cotton hold-alls.
The Sunday Times reports that baby-boomers have the biggest carbon footprint of any group in Britain.
People aged 50 to 64 are more likely to drive gas-guzzling cars, travel overseas and buy electronic goods.