Vietnam boat sinking: Human error blamed, two arrested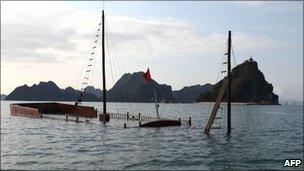 Human error was to blame for the sinking of a tourist boat in Vietnam which killed 12 people, including one Briton, Vietnamese police have said.
Quang Ninh police spokesman Le Thanh Binh said a valve that allowed water to come into the boat to cool the engine had been left open overnight.
Stuart McCormick, 30, from Irvine, Ayrshire, died with 11 holidaymakers and a Vietnamese guide in Halong Bay.
The vessel's captain and a crew member have been arrested.
The wooden boat was touring the Unesco World Heritage Site in Quang Ninh province when it went down.
Speaking to Associated Press news agency, Mr Binh said: "The initial police investigation showed that the man in charge of the boat engine forgot to close the valve that allowed water in to cool the engine before he, the captain and other crew went to bed."
The engine was turned off, preventing a pump from running to push the water out.
By the time the captain and crew woke to find the boat filled with water, it was too late and the vessel sank quickly, he said.
Mr McCormick's father, Bryan, 54, said the family was "devastated".
"We had a couple of e-mails from him from Vietnam and he was having a great time and enjoying himself.
"He had an adventurous spirit. He thought nothing of setting out on this year, he was trying to go round the world and went to Denmark, Japan and Australia."
The 30-year-old, who used to work for Hewlett Packard in Erskine, Renfrewshire, was nine months into a year-long trip around the world when he died.
His father added: "We are concerned about the boat. We don't know the proper information yet. We will be following it up."
Survivors reported seeing a wooden plank on the ship ripping away at about 0500 GMT, then gushing water inundated the boat and quickly pulled it under, near Titov island.
All 12 people who died were in cabins on the boat. The other holiday-makers who did not survive were from the US, Australia, Japan, Russia, France, Sweden and Switzerland.
Another nine foreigners and six locals were rescued from the boat.
The boat - named Bien Mo (Dream Of The Ocean) and owned by Truong Hai Co - was anchored alongside dozens of other cruise boats and weather conditions were said to be calm at the time of the sinking.
Halong Bay, renowned for its hundreds of tiny islands and freshwater swamp forests, is one of Vietnam's most popular tourist destinations.
It is near the Chinese border in the Gulf of Tonkin, about three hours east of the capital, Hanoi.
Related Internet Links
The BBC is not responsible for the content of external sites.