Parking costs 'rely on postcode' Which? claims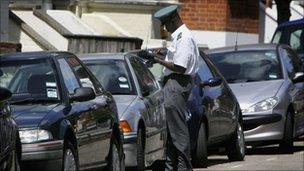 The cost of parking and your chances of getting a ticket largely depend on where you are in the UK, according to a consumer watchdog.
Which? found Londoners face the highest charges, with Manchester, Edinburgh and Leeds also proving to be expensive.
And nearly half of the more than eight million parking tickets issued annually in the UK are in London council areas.
Which? advised drivers to check information about on-street and car park charges on council websites.
It found parking costs varied from £4.40 an hour in London's West End and £2.60 in Leeds and Birmingham, to free in Coventry.
The consumer watchdog said it was usually cheaper to park in a council car park than a private one.
The study found the variation in parking costs is even more pronounced when it comes to council-run car parks.
Car parks in London's Soho cost £18 for four hours, followed by Manchester at £13.20 for the same period of time.
And the cheapest city surveyed for the consumer watchdog was Bradford, which charged £3.50 for four hours.
Edinburgh was the only city in the study that did not offer any council-run car parks.
Prices in the city's privately-run car parks were high at up to £2.50 for an hour or £8.90 for a four-hour stay.
There were similar regional variations in the cost of parking tickets around the UK.
London's Westminster gave out more tickets than any other local authority surveyed but more than 19,000 people - 87% - won appeals against a fine in 2008-2009, suggesting a large number of tickets were not issued correctly, the study found.
However, these figures were disputed by Westminster City Council.
"Not only are these figures old and out of date but they do not represent a fair reflection of the facts," said Councillor Lee Rowley, the council's cabinet member for parking.
He went on: "In Westminster we face unique pressures with over one million daily visitors and hundreds of thousands of vehicles using our roads every day.
"Despite these challenges, the latest figures show that in Westminster the amount of parking ticket appeals received has fallen below the London average, with a 61% reduction in the number of appeals received year on year from 21,892 to 8,367."
He said "important changes" made over the last five years had seen the number of tickets issued each year falling from nearly 820,000 to 500,000.
Commenting on the findings, Which? chief executive Peter Vicary-Smith said: "Parking charges vary enormously up and down the country and people want to be clear about where they can park and how much it will cost them.
"But if there's one thing drivers hate more than paying high prices for parking, it's finding a parking ticket on their windscreen. If you think you've been unfairly ticketed, make sure you appeal."
Related Internet Links
The BBC is not responsible for the content of external sites.