Libya unrest: Britons in east Libya 'helped to safety'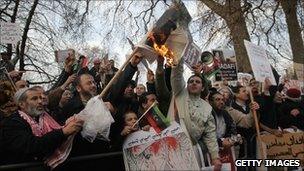 Britons in eastern Libya are being helped to reach a "place of safety" amid continued unrest in the country, according to the Foreign Office (FCO).
The FCO, which refused to be drawn on evacuation plans, is in touch with about 50 Britons in that part of Libya.
The foreign secretary has expressed the UK's "grave concern" to the Libyan leader's son about violence there.
The FCO is advising against all but essential travel to the country, and oil company BP is evacuating staff.
Anti-government protests have spread to the capital Tripoli and, according to Human Rights Watch, at least 233 people have died since last Thursday.
There are about 3,500 British citizens resident in Libya, mostly in Tripoli, although many are thought to have left. Those who remain have been advised to avoid political gatherings and demonstrations.
BP, which is only carrying out oil and gas exploration in Libya, has 140 staff - 40 expatriates and 100 foreign nationals - in the country and the company is preparing to evacuate families and non-essential staff over the next two days.
Tony, from Liverpool, who has been working in Libya for two years in the oil and gas industry, is trying to get home.
"Coming through the city centre, there's boulders in the road, burnt-out cars and such," he told BBC Radio 5 live. "I'm at the airport which is absolutely packed with people trying to leave.
"A lot of people thought the trouble would just blow over in Tripoli, because it is pro-Gaddafi and there's been a lot of protests for Gaddafi. But now people are starting to get a bit worried because once you get a handful protesting against him, they reckon a lot of people will just join in."
Foreign Secretary William Hague spoke to Col Muammar Gaddafi's son, Saif, on Sunday.
The FCO said: "The foreign secretary made clear the UK's grave concern at the escalation in violence.
"He expressed alarm at reports of large numbers of people being killed or attacked by Libyan security forces."
The foreign secretary said the Libyan government's actions were "unacceptable" and "strongly encouraged the Libyan government to embark on dialogue and implement reforms".
Mr Hague will meet EU foreign ministers in Brussels on Monday and is expected to seek a united expression of condemnation for the actions of the Libyan authorities.
Meanwhile, Douglas Alexander, the shadow foreign secretary, said Britain should be doing all it could to "support restraint, human rights and democratic reforms".
According to the EU, ambassadors have been told in Tripoli that if European governments "encourage" protests, Libya will suspend the co-operation it has given on curbing illegal migration across the Mediterranean.
BBC Panorama reporter Paul Kenyon, who has written about the issue, said Libya had been a major transit route from sub-Saharan Africa for many years.
"Out of a population of seven million people in Libya, about one million are thought to be sub-Saharan African," he said. "About three-quarters of those would like to leave and come across to Europe."
Up to 40,000 people used to travel across to the Italian island of Lampedusa every year, he said, but after the co-operation deal was struck last year, the numbers had reduced by 96%.
Thousands of Tunisian migrants have been arriving on the island since the country overthrew its president last month.
"The fear with Libya is that sub-Saharan Africans will try to leave and there are more of them," our reporter added.
Responding to criticism over Britain's commercial interests with the country, Libyan British Business Council chairman Lord Trefgarne said trade with the UK was not "a reward for good behaviour".
"We are a great trading nation, we trade with a great many nations around the world, many of whom we have sharp disagreements (with)."
Lord Trefgarne pointed out that bringing Col Gaddafi back into the international fold led to Libya abandoning its weapons of mass destruction programme.
Britain's "very strict licensing regime" over arms exports was "rigorously applied" to Libya, he added.
Meanwhile in London demonstrations have been taking place outside the Libyan embassy.
Demonstration organiser Lucinda Levalle, from the British Libyan Solidarity Campaign, said that despite closer trading links between the UK and Libya nothing had changed politically.
She said: "Gaddafi hasn't changed anything and the massacre that's happening in Benghazi and around Libya today is proof that this man has not changed one bit from the terrorist he was in the 80s."
Related Internet Links
The BBC is not responsible for the content of external sites.