Operation Captura targets UK crime suspects in Spain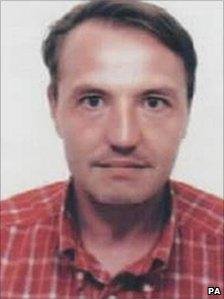 A campaign targeting British criminals thought to be hiding in Spain has been launched on the Costa del Sol.
Tip-offs after past Operation Captura announcements have led to 38 out of 50 named fugitives returning to the UK to face trial or complete jail terms.
One suspect is Anthony Fraser, grandson of ex-London gangster "Mad" Frankie Fraser, who is wanted over cannabis smuggling claims.
Most of the suspects tracked down in the past were in Spain.
Operation Captura was first launched in 2006 and is widely considered to be the UK's, if not the world's, most successful campaign to target fugitives abroad.
Crimestoppers' operations director Dave Cording said: "I think a lot of the expats living out in Spain see these people, don't like the way they behave, and want to help.
"We've probably had 600 pieces of information. And of all the calls we've had, not once has anyone tried to claim a reward."
The 10 names on each Captura list are selected by the Serious and Organised Crime Agency from lists of suspects sent to them by police across the UK.
They are graded according to how dangerous they are to the public, how serious their suspected offences are, and how strong the intelligence is linking them to Spain.
Anthony Fraser is wanted for questioning in connection with a plot in 2009 to smuggle cannabis hidden inside a lorry consignment of frozen chickens into the UK. The other names include:
Jamie Dempsey, 32, from Essex, wanted for allegedly conspiring to supply 299kg of cocaine worth £80m in spring 2009.
Patrick Pious Hancox, 67, from Dublin, wanted by Lancashire Police over a string of child sex offences, including abduction. He is also known as Gordon Patrick Hancox.
Darren Kevin O'Flaherty, 36, from Liverpool, wanted for conspiracy to kidnap and rob over a lorry hijacking in North Yorkshire. He is also wanted for murder in Spain.
Jonathon Lejman, or Lehman, 29, from Stoke-On-Trent, wanted over an aggravated burglary in which a man had his face slashed. He and an accomplice are suspected of kicking in the front door of a house in Stoke on December 28 2009 and attacking the occupants.
At the Crimestoppers call centre in the UK, phones are staffed 24 hours a day, and interpreters are on hand to assist with any Spanish callers.
The tip-offs received are relayed by Soca to the Spanish police in Madrid.
They then notify local snatch teams known as Greco units and if suspects are positively identified, they will be arrested.
Once in custody, the suspects appear in court in Spain before being returned to the UK.
Extraditions that used to take years of legal wrangling are now rubber-stamped in days, following the introduction of European Arrest Warrants in 2004.
"Operation Captura is helping make the expat community in Spain an uncomfortable place for fugitives," says Ken Gallagher, Soca's head of European operations.
"Having the public's attention focused on these individuals goes a long way to making it harder for them to hide."
But why are so many criminals still attempting to hide in Spain?
Dave Cording thinks many of the fugitives choose Spain because although foreign, it is also familiar.
"I suspect having looked at some of the names it's all to do with family," he explains.
"A lot have settled there and these are now the offspring of the villains."
Related Internet Links
The BBC is not responsible for the content of external sites.