Newspaper review: UK's Libya links under scrutiny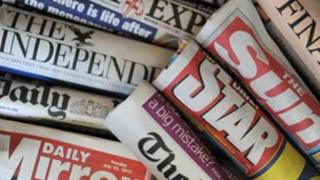 On its front page, the Daily Mail describes events in Libya as the "bloodbath that shames Britain"..
The paper says the United Nations has expressed concern about the UK's trade links with Libya.
The Mail also alleges that British-made weapons may have been used by Colonel Gaddafi's forces.
The Daily Telegraph says Washington has been critical of the UK's dealings with Colonel Gaddafi, saying that they served only to "legitimise" him.
Terrorist cell
There is a claim in the Guardian that Raymond Davis, the US official accused in Pakistan of shooting dead two men in the city of Lahore, is a CIA agent.
The paper says it has conducted interviews in America and Pakistan that confirm he is a spy.
The Times says an Irish republican terrorist cell is operating in England for the first time in a decade.
As a result counter-terrorism teams have been diverted away from tracking Islamist militants, the paper adds.
Employment poll
The Financial Times publishes the findings of a survey that suggests a significant proportion of companies are not interested in hiring people who have lost jobs in the public sector.
Researchers contacted 500 firms.
Some 57% of which expressed the belief that people who had worked in the public sector would not "be equipped to take a post in their business".
The FT describes the findings as "a blow to ministers hoping to limit the impact of spending cuts".
'Hate figure'
The Sun considers with relish the guest list for the royal wedding of Prince William and Kate Middleton.
It seems delighted that Sepp Blatter, the president of football's world governing body Fifa, will not be receiving an invitation.
The paper says Mr Blatter, whom it describes as a "World Cup hate figure", was expected to be invited.
But the situation changed because of Fifa's decision to award the 2018 tournament to Russia, not England.