Libya unrest: David Cameron condemns violence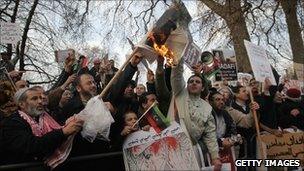 The UK has strongly condemned violence carried out by the Libyan regime as anti-government protests there spread.
PM David Cameron said it was "appalling and unacceptable" and Foreign Secretary William Hague called it "deplorable".
Mr Cameron, who is on a tour of the Middle East, said aspirations for Libyan democracy should be met with reform, not repression.
The Foreign Office (FCO) has advised against all but essential travel, and is urging Britons to leave if they can.
There are about 3,500 British citizens resident in Libya, mostly in Tripoli, although many are thought to have left.
FCO officials said the Libyan ambassador in London had been summoned to "underline personally to him" the British government's grave concerns about violence.
At least 233 people have died since last Thursday, according to Human Rights Watch, as protests spread to the capital Tripoli.
Meanwhile, demonstrators have been protesting outside the Libyan Embassy in London's Knightsbridge to oppose Colonel Muammar Gaddafi's 42-year rule.
Nine members of the embassy staff left the building to join the protesters outside, the BBC has learned.
Safwan Jammoun, an administrator who works in the cultural affairs unit, said Col Gaddafi was "killing our brothers, our sisters, our families".
He told the BBC: "I just want to send a message to all the guys who work for the embassies all over the world. They can't go home but they should step down, they should protest, they should do whatever they can do to free Libya from Gaddafi's regime."
In Manchester, which has the largest Libyan community in the UK with around 2,000 families, hundreds of expats also protested on the streets, urging Col Gaddafi to step down.
Mr Cameron said: "I call on them [the Libyan regime] even at this late stage to stop. People's aspirations for greater democracy, for greater freedom, for greater rights should be met with reform, not repression."
Mr Hague said the UK would continue to assess the threat to British nationals in Libya and the need for evacuations.
He said the credibility of the Libyan government had been undermined by its failure to protect its own people.
"The UK is gravely concerned about the situation in Libya which is deplorable and unacceptable," the foreign secretary said.
He added that the pursuit of democracy and stability in North Africa and the wider Middle East was a "major test" for the European Union.
Speaking in Brussels after a "very useful" meeting of European foreign ministers, Mr Hague urged Libya to begin talking to the protesters.
He said British nationals in the country, particularly in the east, would get "every possible assistance in leaving".
"Of course, we have changed our travel advice to make it clear that people should not travel to Libya except for all but essential travel and those who are there should leave if it is safe to do so," he said.
Earlier, he said the situation was under constant review, and the UK would assess the need for evacuations as events progressed.
The violence has prompted European governments, including Spain and Portugal, to prepare evacuation plans for their citizens, and the US has advised all non-emergency personnel to leave the country.
Oil giant BP, which is carrying out oil and gas exploration in the Libyan desert, said 40 expatriate staff and their families were being evacuated as it suspended drilling operations.
Meanwhile, passengers on a flight from Tripoli have begun arriving back at Heathrow.
David Monkman described a scene of burnt out cars - which he said looked like police cars - and the smell of burning in the capital.
He and his partner Raye, who had been on holiday in Libya, said there was a sense that "the genie was out of the bottle".
"When we left Tripoli this morning we drove past Col Gaddafi's palace - where you are told never to take photos and the gate is normally closed - and the gates were open and there was a tank inside," Mr Monkman said.
"The atmosphere on the flight was superb. Some women had left their husbands behind, but they were just glad to get the kids out," Raye added.
According to the EU, ambassadors in Tripoli have been told that if European governments "encourage" protests, Libya will suspend the co-operation it has given on curbing illegal migration across the Mediterranean.
BBC Panorama reporter Paul Kenyon, who has written about the issue, said Libya had been a major transit route from sub-Saharan Africa for many years.
"Out of a population of seven million people in Libya, about one million are thought to be sub-Saharan African," he said. "About three-quarters of those would like to leave and come across to Europe."
Up to 40,000 people used to travel across to the Italian island of Lampedusa every year, he said, but after the co-operation deal was struck last year, the numbers had reduced by 96%.
Thousands of Tunisian migrants have been arriving on Lampedusa since Tunisia overthrew its president last month.
"The fear with Libya is that sub-Saharan Africans will try to leave and there are more of them," our reporter added.
Responding to criticism over Britain's commercial interests with the country, Libyan-British Business Council chairman Lord Trefgarne said trade with the UK was not "a reward for good behaviour".
"We are a great trading nation, we trade with a great many nations around the world, many of whom we have sharp disagreements (with)," he said.
Related Internet Links
The BBC is not responsible for the content of external sites.