7/7 inquests: MI5 'could have identified ringleader'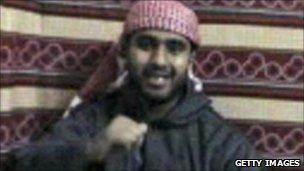 MI5 received intelligence four months before 7/7 which could have identified ringleader Mohammad Sidique Khan as an extremist, the inquests have heard.
MI5's chief of staff, known as Witness G, said the security service had received a report about an extremist called "Saddique" in March 2005.
The information was not followed up for good operational reasons, he argued.
Counsel for the families of the 52 people killed in the 2005 London attacks were questioning Witness G.
Four suicide bombers detonated their devices on London's transport network on 7 July 2005.
Mohammad Sidique Khan, 30, Shehzad Tanweer, 22, Hasib Hussain, 18, and Germaine Lindsay, 19, targeted Tube trains at Aldgate, Edgware Road and Russell Square and a bus in Tavistock Square.
Many of the relatives of those who died want to know why those under surveillance were not subjected to detailed scrutiny.
On Monday, MI5's chief of staff told the inquests the security service could not be held responsible for the attacks.
Giving evidence anonymously, Witness G said on Tuesday that MI5 knew of many individuals involved in Islamist extremism but that was not the same as planning terrorist attacks.
In particular, they knew that many of these people took part in "Jihadi tourism" during which they would go to Pakistan to have a look around.
West Yorkshire Police received intelligence between January and March 2005 that a committed extremist called "Saddique" from Batley, West Yorkshire, received training in Afghanistan in the late 1990s or early 2000s.
He is also believed to have undergone military instruction at a camp while in Pakistan in 2001.
MI5 and West Yorkshire Police failed to identify the man, but it emerged after the 7 July bombings that he was Khan.
Witness G told the hearing if the information had been pursued, he had a high degree of confidence MI5 would have identified the extremist as Khan.
When it was put to Witness G that if the intelligence had been looked into, then Khan's plans might have come to light before the attacks, the senior spy replied: "Yes, I think that's fair."
However Witness G said the decision had been taken not to further investigate the real identity of "Saddique" for good operational reasons - but he insisted it was impossible for him to explain the decision because of national security.
Hugo Keith QC, counsel to the inquests, pressed Witness G further, suggesting that had they identified the man as Khan, they would have been able to also see the links between him and the 2004 fertiliser bomb plot, and to a known al-Qaeda facilitator living in Luton.
But Witness G said the greatest chance to have identified Khan would possibly have been intelligence that a man known as "Ibrahim" had attended a terrorist training camp in Pakistan. That man was only identified as Khan after the bombings.
The court also heard how in 2005 the security service did not categorise suspects according to the level of threat they posed and it did not keep separate records of any assessments made.
A report by the Intelligence and Security Committee (ISC), published in May 2009, said the security service divided people of interest into "essential", "desirable" and "other".
MI5 judged Khan and Tanweer to be "desirable" targets in February and March 2004, the report said.
But Witness G admitted the terms were not categories employed operationally by security service officers - and in fact no terms were used to categorise Khan and Tanweer - and the words were used in the ISC report as a "term of art".
The inquests have already heard that ringleader Khan appeared on the periphery of another investigation, codenamed Crevice, in 2004 - but the security service concluded at the time he was not a threat to the UK.
It also heard how MI5 missed an opportunity to identify Khan when they failed to show Mohammed Junaid Babar - their key informant - a photograph of the 7 July bomber.
Khan and suicide bomber Shehzad Tanweer were photographed by a surveillance team in front of a Burger King outlet at the Toddington Services on the M1 in Bedfordshire on 2 February 2004.
But instead of using this sharp colour picture, MI5 provided only a very badly cropped image of Tanweer to US investigators interrogating the supergrass.
A photograph of Khan was also edited but it was never shown to Babar - apparently because the quality was so poor.
The inquest was also shown a police mugshot of Khan taken when he was arrested and cautioned in February 1993, aged 18, for an assault committed the previous Boxing Day.
The photograph was sent to MI5 in July 2004 but it was not compared to the surveillance pictures taken at Toddington Services or shown to Babar, the hearing was told.
MI5 chiefs have previously told the Intelligence and Security Committee that in late 2004, their officers had an enormous workload because of massive growth in al-Qaeda-linked plots.
Last month, the coroner Lady Justice Hallett granted a request from Home Secretary Theresa May for Witness G to give evidence anonymously.
But she refused to rule that the witness should be screened from the families of those who died.
Related Internet Links
The BBC is not responsible for the content of external sites.