Dannatt: Army must give recruits 'moral education'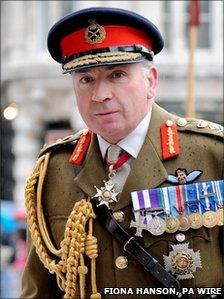 The Army must provide a moral education for its recruits, according to the former head of the service.
Lord Dannatt said that many members of the forces had "chaotic backgrounds" and had not been exposed to traditional values.
He said a lack of respect for others could lead to outrages such as the abuse of Iraqi civilians.
Lord Dannatt was head of the Army from 2006 until 2009, and now sits in the Lords.
He was speaking at an event at the Royal United Services Institute in London.
Lord Dannatt said it was vital that servicemen and women be taught what he called the "core values" of courage, integrity, respect, loyalty, discipline and selfless commitment.
He suggested that members of the Army should undertake a refresher course in those values as part of their annual training tests.
"If there isn't a moral basis then frankly the whole of life is baseless and has no fixed starting point," he said, "so we feel it's a legitimate thing to do to train people in having a moral baseline."
Respect for others, he added, was "almost the most important" of the values which members of the Armed Forces were taught.
Without it, he warned, "that's when you're into bullying or abusing Iraqi citizens".
In the past, Lord Dannatt has criticised former prime ministers Gordon Brown and Tony Blair for letting down British troops in Iraq and Afghanistan, saying they had provided inadequate funding.
He caused a row when he acted as a defence adviser to the Conservatives after stepping down from the armed forces.
Last year he quit the role when David Cameron became prime minister. He said he had given up the post to ensure military advice came from chiefs of staff, not a "has-been".