Foreign Office cuts 400 UK embassy posts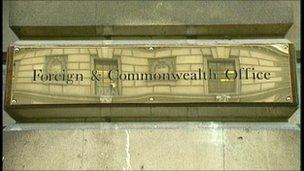 The Foreign and Commonwealth Office (FCO) is to cut about 400 jobs from its embassies and consulates around the world.
Staff were told in a briefing that the cuts would help towards reducing the deficit.
The posts were described by an official as mainly "junior" and "back-office".
But a civil service union claimed the cuts, which it is hoped will save £30m a year, would leave British citizens without support.
The FCO said it had to make £100m of savings over four years, and was seeking to focus its activities on what it describes as the "core front-line activity" of diplomacy and foreign policy.
The cuts will either abolish roles completely or see local staff brought in, rather than the FCO sending out UK-based employees.
An official stressed that those in jobs now were being allowed to serve out their tours of duty, and the plan did not involve compulsory redundancies.
But a statement by the Public and Commercial Services Union criticised the decision as "short-sighted" when staff were playing a key role in helping citizens in Egypt, Tunisia and Libya.
The union said the government should rethink its plan, as support for British citizens "will not be there in the future".
Related Internet Links
The BBC is not responsible for the content of external sites.