Libya unrest: British oil workers describe their plight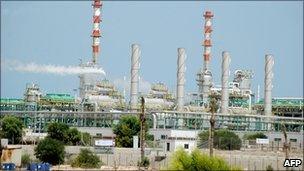 Although many Britons are returning to the UK from the unrest in Libya on specially chartered flights, there are concerns for oil workers stranded in isolated desert camps. Some of them have contacted the BBC News website about their plight.
Tony Blakeway said he was on a camp in Amal with 300 people, about 50 of them British.
He described how armed locals had been protecting them, but it was thought the Libyans would be quitting the camp by road, leaving the rest exposed to armed looters.
"We need help from the British government to get us out," he wrote.
"We've heard nothing from the British government - the airfield here is open and capable of landing a large passenger plane.
"In the past there have been DC9s landing at this airport. The airport is open and there is no damage.
"Please send immediate help as these looters will be back here tonight. The phones are not working. Please help us to get out."
Oil worker Gary said he was among a group of eight Britons, one Canadian and one American on a Libyan oilfield.
And he had a similar message for the British authorities: "Forget the internet, forget phones, just pass a message on to the top brass to get the RAF in tomorrow to Zueitina 103 oilfield."
He said many of the local staff had left but those remaining had been told to keep the gas plant running to supply the west of the country with electricity.
"We had vehicles stolen at knifepoint, even though we barricaded ourselves in after the army security left," he continued.
"The catering staff and the rest of the staff are due to leave today, as they are now living in fear.
"If this happens, we are going to take a risk and will travel in a vehicle convoy to a nearby site where the desert landing strip is.
"There is a large camp there, also with a number of expats wanting to get out. Wednesday was the first time in two weeks we had internet access.
"The phones are in and out, Skype is almost impossible now. Some of us are coping well under the circumstances but I really do fear for my life and that of my colleagues."
Another Briton, Larry, who is in the Nafoora oil field in Libya's Sirte Basin, said he was one of many expats who could not move for safety reasons.
"We are all waiting to be evacuated by plane to the UK," he said.
"The local people are doing their best to make us comfortable and protect us, but should any army come they can do nothing without weapons.
"We are helpless with no information. All phone lines to the UK are blocked, I only have the internet. When is our government going to act?"
Related Internet Links
The BBC is not responsible for the content of external sites.