Newspaper review: Libya rescue is a 'fiasco'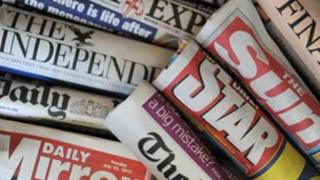 A fiasco, says the Daily Mail. A shambles, according to The Sun.
The government has shown itself to be "inept" and "incompetent", in the words of the Daily Mirror.
It was less Dunkirk, more Carry On Follow That Camel, according to Richard Littlejohn in the Mail
A cartoon in the Daily Telegraph shows the Foreign Secretary, William Hague, twiddling his thumbs at his desk underneath a painting of a warship engaged in "Gunboat Diplomacy".
The broadsheets consider the next steps in the crisis.
The Times says President Barack Obama, David Cameron and President Nicolas Sarkozy are scheduled to discuss ways of removing Colonel Gaddafi.
The Daily Telegraph says ministers have identified billions of pounds deposited in London by the Gaddafi regime - including a mansion worth £10m.
It has been told that these assets are likely to be seized within days, once British nationals are out of Libya.
Mr Cameron is taking personal charge of efforts to set up convoys to rescue British oil workers stranded in camps in the desert, says The Guardian.
A possible airlift by special forces is also being examined, it says.
The spiralling cost of oil is the the main story for the Financial Times, which says Saudi Arabia indicating it is prepared to increase supplies.
The Daily Express says the crisis in the Middle East could see the price of crude oil double.
The Express and The Sun both call on the government to abandon plans to increase fuel duty in April.
The Guardian voices concern about the influence of lobbyists on MPs.
It has discovered that all-party parliamentary groups received £1.6m in sponsorship from corporations and other outside interests last year.
Examples include £60,000 for the parliamentary choir from BT; and more than £50,000 from drinks and pub companies for the beer group.