Search for two New Zealand earthquake Britons continues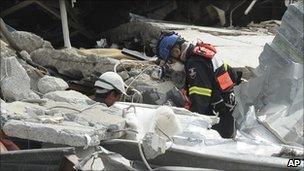 The search is continuing for two Britons missing after an earthquake devastated Christchurch in New Zealand.
Rescue workers are searching for more than 220 people who remain missing in the wake of Tuesday's quake, which has so far claimed 113 lives.
The Foreign Office has confirmed that two other Britons died in the quake and next of kin have been informed.
One has been named as Gregory Tobin, a 25-year-old chef, from Tadcaster, North Yorkshire.
British High Commission spokesman Chris Harrington said the two men "got on a certain bus, which was crushed by falling masonry".
Mr Harrington said another Briton was in Christchurch Hospital with a fractured skull, broken clavicle and broken ribs but was expected to make a full recovery.
The 6.3-magnitude earthquake struck at a shallow depth of 5km (3.1 miles) early in the afternoon on Tuesday.
Rescuers believe many bodies lie beneath three collapsed structures in the city - including 122 believed to have been in one building where it is thought no-one could have survived.
They have insisted that they are still carrying out a rescue operation but no survivors have been found since Wednesday afternoon.
Mr Tobin had been on a round-the-world trip and had been working at a restaurant in Christchurch. One of the tributes to him on Facebook read: "Such a nice guy and at such a young age."
A British search-and-rescue team landed in Christchurch on Thursday, joining others from the US, Japan and Australia, still hopeful of finding survivors.
Prince William and his fiancee Kate Middleton joined Prince Harry in signing a book of condolence at the New Zealand High Commission in London.
Earlier, the Prince of Wales paid a similar tribute at New Zealand House in central London.
The prince, who met High Commissioner Derek Leask, wrote: "With my deepest possible sympathy for the people of New Zealand at such a time of tragedy."
The Foreign Office has set up a crisis centre at a hotel near Christchurch airport to issue emergency passports and help its citizens escape the quake zone.
"We have a large consular team on the ground, including our High Commissioner to New Zealand, Vicki Treadell, who are providing full consular assistance to any British nationals that require it," a spokesman said.
"The High Commission in Wellington has been reinforced with additional staff, and we stand ready to send further reinforcements from our posts in the region if required."
A helpline on 020 7008 8765 has been set up for concerned friends and relatives in the UK.
Briton Malcolm Selway has travelled to New Zealand to search for his missing daughter Susan Selway, 50, who was in the Canterbury Television building in Christchurch hit by the earthquake.
Mr Selway, 72, from Henley-on-Thames in Oxfordshire, had just arrived back in the UK from visiting his daughter in New Zealand when told about the quake.
His wife Linda said: "It's absolutely awful. Her old office building was condemned after the last earthquake but it wasn't hit this time and if she had been there she would have been all right."
Meanwhile, tributes have been paid to Irishman Owen McKenna, originally from Emyvale in County Monaghan, who died in the quake when his car was crushed by falling debris.
Two Irish people are still missing, one of them trapped in a collapsed building.
Christchurch city centre remains closed and many residents are spending another night in evacuation centres.
The airport reopened on Wednesday, and military planes were brought in to fly tourists to other cities.
Related Internet Links
The BBC is not responsible for the content of external sites.