Newspaper review: Gaddafi regime assessed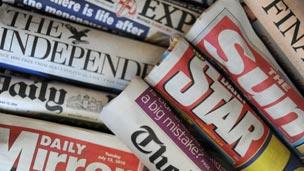 The violence and unrest in Libya continues to dominate the newspapers.
It says the Libyan crisis has pushed up the price of aviation fuel by 40%.
The Video Standards Council defends it, saying the adverts, which have images of handcuffs and partner swapping, are more extreme than the game itself.
A police spokesman tells the paper security is "being reviewed".
Related Internet Links
The BBC is not responsible for the content of external sites.