Newspaper review: Gaddafi regime assessed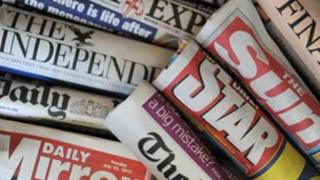 The violence and unrest in Libya continues to dominate the newspapers.
The Guardian says UK officials told senior Libyan figures to desert Col Gaddafi - or face crimes alongside him.
A correspondent for the Times in Tripoli talks of witnessing the "last throes of a dying regime".
The Daily Mail tells how a reporter and a photographer braved machine guns to track down 24 stranded UK oil workers, and the Independent says the Libyan leader is "beleaguered" but "defiant".
Birth ordeal
The Daily Mail reports how a stranger delivered a woman's baby in a hospital waiting room in Essex as no trained staff or beds were apparently free.
Frances Randall, 21, describes giving birth on a chair at Queen's Hospital, Romford. The Sun calls it "shameful".
Under the headline "Rise of the water rates", a Daily Mirror editorial attacks the 4.5% rise in water bills.
The Daily Telegraph, meanwhile, reports that the Libyan crisis could net the Treasury £4bn in extra fuel duty this year.
Fuel hike
The Daily Express says the average price of a family holiday abroad is set to soar by hundreds of pounds.
It says the Libyan crisis has pushed up the price of aviation fuel by 40%.
The Daily Telegraph says a new computer game called "We Dare" has been awarded a 12+ certificate even though players can act out a strip-tease.
The Video Standards Council defends it, saying the adverts, which have images of handcuffs and partner swapping, are more extreme than the game itself.
Conker canker
"Slow not Snow" is the Daily Mirror's take on figures showing the economic downturn was worse than thought.
The Independent says horse chestnut trees lining 16th Century Barrington Court in Somerset are being cut down because of the spread of conker canker.
Finally, the Daily Express says a police station in Bury St Edmunds, Suffolk, was burgled a day after officers urged locals to lock doors.
A police spokesman tells the paper security is "being reviewed".