UN Food and Agriculture Organization warned over UK funds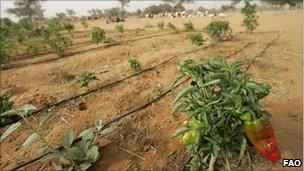 The UK is threatening to switch funding away from the UN Food and Agriculture Organization unless its performance improves, BBC News has learned.
Instead, more funding could go to the World Food Programme, which deals with emergency food aid around the globe.
The FAO deals with longer term projects, such as providing seeds and tools for agriculture, and the UK is reviewing how effective this work is.
The announcement will be made in a major review of aid spending next week.
As a major aid donor, any cut or change in UK funding of UN programmes is likely to have a big impact.
The UK was a founding member of the FAO, which was set up in 1945.
However, the BBC's international development correspondent David Loyn says the government view is that membership is not bringing results and that it might go as far as to cut that membership altogether.
As part of a major review of aid funding to be unveiled next week by Andrew Mitchell, the International Development Secretary, the UK will also announce an increase in aid to individual countries to improve their ability to grow food.
Britain's funding significant
Mr Mitchell is under pressure to make every penny count as his budget is one of the only parts of government spending that will see an increase this year.
David Loyn says any change to the UK's aid funding will be significant.
"Britain is a very big beast in the aid jungle, which is why these decisions - if they actually go as far as cutting whole programmes or increasing whole programmes in the UN - will make a big difference," he says.
Related Internet Links
The BBC is not responsible for the content of external sites.