Bookstart funding confirmed two months after U-turn row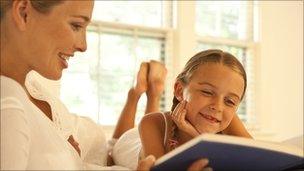 A charity that gives free books to children in England has been told it will have a 50% cut in funding, two months after fears over its future sparked a political "U-turn" row.
The Department of Education will spend £13.5m over two years on Booktrust.
In December, the government was accused of a partial U-turn over the charity.
First it was told it would lose all its government grant for bookgifting. But after a backlash, ministers said some funding would continue.
At the time, children's author Philip Pullman said scrapping the scheme would be an "unforgivable disgrace" and former poet laureate Sir Andrew Motion warned of "an act of gross cultural vandalism".
Meanwhile Labour leader Ed Miliband accused the government of presiding over a "fiasco" and being "mean-minded".
Announcing the new funding, a Department for Education spokesman said: "The free bookgifting scheme will be delivered by the successful Booktrust charity with government investment valuing £13.5m over two years - half the cost of the previous scheme."
Booktrust had previously been given an annual budget of £13m for its bookgifting programme.
The charity - which started in 1992 and has received money from the government since 2004 - provides packs of books to parents when their babies are first born, and again at later stages in their development.
It is funded separately by the devolved administrations in Scotland, Wales and Northern Ireland.
Education Secretary Michael Gove said the scheme would "help all children to develop a love for books and will crucially provide extra support to address the needs of children who live with disadvantage".
Booktrust chief executive Viv Bird said the "significant reduction in central funding" meant the charity had had to make "tough decisions" about the future shape of the bookgifting programmes.
One was losing lose one of the universal packs as part of the Bookstart programme, she said.
"We are pleased that we have been able to safeguard the core bookgifting offer, so that every child has access to books at key stages of their development," she added.
Under the new agreed funding, babies up to a year old are to be eligible for Bookstart Baby.
Toddlers aged 12 to 30 months will be able to get books through Bookstart Corner, only through Sure Start Children's Centres.
Three to four-year-olds have the universal offer with Bookstart Treasure Bag, while children aged four and five and 11 to 12 are also eligible.
Bookstart charity co-founder Wendy Cooling was made an MBE in 2008 for services to children's literacy.
Related Internet Links
The BBC is not responsible for the content of external sites.