Newspaper review: Libya turmoil fills front pages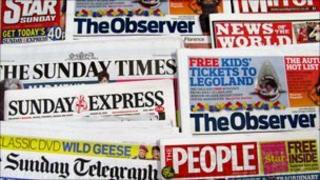 Speculation about the fall of Col Gaddafi makes nearly all the papers.
The Sunday Telegraph says the net is closing in on the Libyan leader, while the Independent on Sunday tells us the stage is set for his last stand.
The Sunday Times says the noose is tightening on the Sahara strong man turned cornered rat.
And the Observer claims his 42 years as "bizarre dictator" are drawing to a close. It says nobody wants to sit idly by while thousands more perish.
Rescue mission
The rescue of oil workers from Libyan desert areas is also widely covered.
The Observer claims British special forces secured runways to allow the RAF Hercules aircraft to land safely.
The Sunday Mirror says special forces shielded the ex-pats as they headed to rendezvous points, while the The Mail on Sunday calls the rescue meticulous.
The Sunday Times has an account from one British oil worker who says he only caught the flight because he saw the Hercules aircraft flying overhead.
Royal wedding
The News of the World says struggling families face a decade of despair because of rising prices and wage freezes.
It claims working couples with children will be up to £4,250 worse off in 2011.
The Mail on Sunday reports that the guest list for April's royal wedding includes the Middleton family's grocer, postman, butcher and pub landlord.
And the couple who run a local shop in the Berkshire village tell the Sunday Telegraph of their surprise invitation.
Oscars hype
As excitement mounts ahead of the Oscars, a study in the Sunday Times claims winners could live four years longer than nominees who miss out.
The Mail on Sunday, meanwhile, reports that losers will still receive a trip to the Maldives, a stay in a top hotel or luxury clothes and jewellery.
The goody bags are worth £52,000, according to the News of the World.
And the Sunday Express says Colin Firth is set to land the Triple Crown - an Oscar, Golden Globe and Bafta..