Ministers urged to give more help to young offenders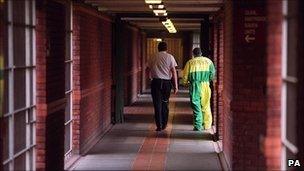 The government could save money if it put more effort into supporting young offenders leaving custody, a children's charity has said.
Barnardo's says children as young as 13 are caught in a cycle of homelessness and reoffending.
It claims the taxpayer could be saved as much as £67,000 per child over three years if they had safe accommodation to go to after release.
The government says councils will be encouraged to do more to help.
More than 4,000 young people were referred to Barnardo's after they left custody in 2009-10.
The charity says housing is a key concern since many are suffering from depression, have special educational needs and are often sent back to families who cannot cope with them.
Barnardo's chief executive Anne Marie Carrie said those young people were easy to ignore but "we do so at great cost to their young lives and society".
Ms Carrie said the government "is on the verge of a self styled 'rehabilitation revolution' but there are gaps in the plans".
"We don't say this lightly, we are all too aware of the cuts being made across the UK in an effort to fight the effects of the economic crisis we are in, but surely, if ever there is a case for return on investment this is it."
A government spokesman said it recognised that young people leaving custody were vulnerable.
But he pointed out that local authorities were already obliged to provide safe accommodation and support for young people who cannot live at home or with their relatives.
The Ministry of Justice said it was working on a green paper which would further incentivise councils to achieve reductions in youth offending.
Related Internet Links
The BBC is not responsible for the content of external sites.