Royal Navy sailor killed in road accident in Dubai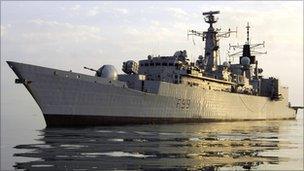 A Royal Navy sailor who was part of an anti-piracy task force has been killed in a road accident in Dubai.
The Ministry of Defence said the accident happened in the early hours of Sunday 27 February.
The sailor's next of kin have been informed. He had been on leave when he was hit by a car.
The sailor was serving with HMS Cornwall which has been deployed to the Gulf as part of an international anti-piracy taskforce.
Earlier this month, the frigate helped to free the Yemeni crew of a shipping vessel which had been captured by Somali pirates.
According to reports, the accident is believed to have involved more than one car.