Newspaper review: Gaddafi endgame begins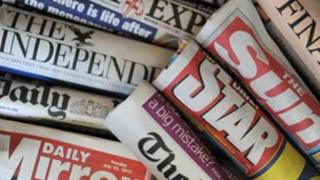 Speculation about a Libya without Col Gaddafi occupies several of the papers.
The Daily Mail senses the endgame has begun for the leader but wonders who can fill the vacuum.
As ex-justice minister Mustafa Abdel-Jalil heads the interim government in Benghazi, the Independent asks if he could "wrest power from Gaddafi".
The Financial Times thinks people power will bring stability to Benghazi, while the Guardian says militias are linking up before a final assault on Tripoli.
SAS mission
The Daily Telegraph says Col Gaddafi's hold on power is nearing its end as the UK freezes his family's assets.
And the Times has an interview with Tony Blair, who says the Libyan leader was in denial when he told him on the phone on Friday that it was time to go.
The Sun, meanwhile, says militiamen tried to slash the tyres of an RAF Hercules as the SAS rescued UK workers.
The Daily Mirror reports former SAS troops cleared desert landing strips for the aircraft to mount the rescue.
World Cup thriller
The sports writers are full of superlatives to describe England's tie with India in the cricket World Cup.
The Guardian calls it an "astonishing" contest which shows any obituaries for the 50-over format are premature.
And the Daily Mail says it was possibly the tournament's greatest ever match.
The Daily Express, meanwhile, reports new figures suggesting French food is the UK's fastest growing cuisine. It urges readers to sample the delights - but warns French fries do not count.
Irish debt
The cost of a high-speed rail link planned between London and Birmingham worries the Financial Times.
It claims the bill for each mile of track would be four times as much as the average high speed line in Europe.
The Times says Fine Gael's Enda Kenny must convince Ireland he will tackle its debts as he forms a new government.
Finally, the Sun tells us a woman from New Jersey who thought she had won the lottery is suing a local TV station for reading out the wrong numbers.