7/7 inquests: 'Failings' hindered ambulance controllers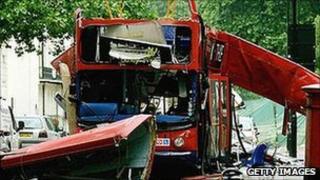 Ambulance controllers trying to respond to the 7/7 attacks worked in chaos amid a series of shortcomings, the inquests into the attacks have heard.
Only one woman logged all the emergency calls and vital information was written on scraps of paper, it was revealed.
Hugo Keith QC, counsel to the inquest, said the 7/7 London Ambulance Service logger said: "I am not a trained typist, I use two fingers and a thumb."
Four suicide bombers killed 52 people on London's transport network in 2005.
The bombers targeted Tube trains at Aldgate, Edgware Road and Russell Square, and a bus in Tavistock Square on 7 July.
A number of failings were referred to in the inquests at the Royal Courts of Justice in London.
The hearings were told that the employee in charge of updating the control room whiteboard could only reach halfway up it.
And Jason Killens, London Ambulance Service's deputy director of operations, said two of the people designated "crucial roles" at the start of the incident were not trained in the procedures for the so-called Gold Command - in overall control of the emergency.
He said staff transferring from their normal control room positions to the Gold disaster control room caused a delay because they had not logged off properly.
That meant they were then unable to log on to the new system as calls from the four terror sites built up, causing a backlog.
The hearings were told of the confusion in the control room at Waterloo through a debriefing document that was read out.
Serious delays
The paper said: "At the beginning of the incident, it was organised chaos.
"There were communications issues throughout," it said, adding that radio channels were blocked and no feedback was coming in from ambulance bosses on the ground.
The inquests heard that there was so much information coming in that control room staff were unable to prioritise it effectively.
Mr Killens said a group of employees were sent to Bow to set up a "fallback" control room, although it was not used.
He said managers had hugely improved their control room practices since the 7 July attacks: "It's an entirely new system."
Mismanagement, along with failed radio and mobile phone networks, also meant there were serious delays in dispatching paramedics to bomb sites.
There was a delay of almost one hour in getting ambulances to the site of the bus blast in Tavistock Square where 13 people were killed.
And there was a half hour delay in dispatching paramedics to Russell Square, where 26 people died.
Mr Keith QC said an emergency planning manager had warned LAS about the reliability of mobile phones in March 2005.
In his message he had said: "We have experienced unacceptable delays which could have compromised operations."
He added: "It has been luck rather than judgement that we have got away with it - a situation neither of us will be happy with."