Gulf War Veterans mark 20 years with protest march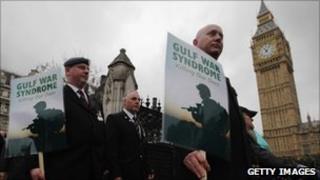 Gulf War veterans have staged a protest in Westminster to call for greater help with their medical problems.
Campaigners say 1,000 British veterans have died because of Gulf War Syndrome and they want improved testing, treatment and compensation.
The government says there is no evidence of a specific illness caused by the war.
The march is timed to coincide with the 20th anniversary of the end of Operation Desert Storm.
Many British veterans have fallen ill since returning from the Gulf in 1991, but there are conflicting views over whether Gulf War Syndrome exists as a distinct condition.
'An umbrella term'
Reported symptoms range from sleep disturbances and headaches, to stomach and respiratory disorders and psychological problems.
The Ministry of Defence accepts that soldiers became ill, but argues Gulf War Syndrome is an umbrella term for many different symptoms.
The march organiser Kerry Fuller, of the First Gulf War (90/91) Veterans Protest Group, suffered chronic fatigue and a stroke which he blames on the war.
He said: "We believe successive governments have engaged with the Ministry of Defence in denial and word-play to negate proper testing, treatment and compensation for thousands who are blatantly ill."
"This relatively new coalition government has a golden opportunity to make amends and be seen to do the right thing."
On 28 February 1991, President George Bush Sr declared a ceasefire, ending a six-week war.
Allied forces had driven Saddam Hussein out of Kuwait, which Iraq invaded in August 1990 in a dispute about oil.