Newspaper review: West considers Gaddafi moves - papers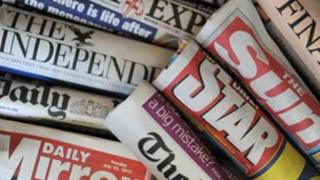 The Daily Telegraph says Western leaders are "on the brink of ordering military action" against Col Gaddafi.
This is amid fears that he could use chemical weapons against his people.
It says the Libyan leader is thought to have as much as 14 tonnes of the chemicals required to make mustard gas.
The paper's columnist, Mary Riddell, believes David Cameron must use "all means at his disposal" to ease Libya's entry into a post-autocratic world.
'Disaster'
The Daily Mirror detects the "growing sound of sabres being rattled in Downing Street" and it isn't happy.
"We must not invade," it says, warning that deploying troops in Libya would risk an "Iraq-style disaster".
The Financial Times points to the disclosure by David Cameron that the UK was considering plans to enforce a no-fly zone in Libya.
It says that helped divert attention away from the coalition's "initially cack-handed attempts to organise a rescue operation for UK nationals".
Legal history
The case of a young autistic man who was detained for almost a year in a care unit, against his will, is on the front page of the Independent.
The paper says a judge made legal history yesterday when he ruled news organisations could give details of the struggle by the man's father to be allowed to care for his son.
The paper believes it is the first time a judge in such a case has allowed all the parties involved to be identified.
Environment
The Guardian reports foam plastic cups have made a comeback in the basement coffee shop at the US Congress building in Washington.
The paper says the Republicans, who now control the lower house, have begun reversing a series of green initiatives introduced by the Democrats.
The Guardian says the cups and the Republicans have lots in common.
It says they are both white, seemingly indestructible and bad for the environment.