7/7 inquests: Half of ambulances 'not sent to help'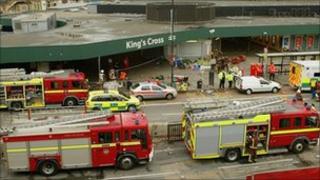 Only half of 201 London ambulances available on the day of the 7/7 bombings were sent to help victims, the inquests into the attacks have heard.
Crews stationed nearby were held back in case of more attacks and controllers struggled to identify free ambulances.
It also emerged ambulance chiefs were told months before the attacks that switching from pagers to mobile phones to transmit alerts would cost lives.
Four suicide bombers killed 52 people on London's transport network in 2005.
The inquests heard that there were 201 rostered ambulances available to London Ambulance Service (LAS) controllers on 7 July 2005.
However, only 101 were deployed to the sites of the terrorist attacks on Tube trains at Aldgate, Edgware Road and Russell Square, and a bus in Tavistock Square.
Further medical crews from outside London were sent to help the rescue effort and volunteer ambulances also assisted with treating and carrying the wounded to hospital.
The inquests heard that some paramedics complained they were left to watch the events unfold on TV for more than an hour before being sent to help survivors.
'In reserve'
Jason Killens, LAS's deputy director of operations, said some crews were deliberately held back in case there were further attacks, adding that he felt it was "the right decision on the day" and it was "highly probable" that similar action would be taken again in the event of similar circumstances arising.
Christopher Coltart, barrister for the families of seven people killed in the suicide attacks, said LAS's internal debrief process had uncovered problems in deploying available crews to the Russell Square and Aldgate bombings.
He also highlighted LAS controllers' problems in establishing which crews were free to be sent to the bomb sites.
Mr Killens answered: "It's right to say that there was difficulty in ascertaining the status of the entire fleet."
The inquests were also told LAS executives had been warned four months before the attacks that a decision to switch from pagers to mobile phones for transmitting alerts to managers in a major incident could lead to "needless loss of life".
It emerged that Keith Grimmett, of the LAS emergency planning unit, had urged a return to the use of pagers to alert senior staff in the event of a disaster because they were more reliable than mobile phones.
Mr Coltart pointed out that three senior LAS officers managed the ambulance response to two of the 7/7 attacks without realising the others were very nearby.
He said: "If they had been equipped with pagers, of course, it would have been possible, wouldn't it, to put them in touch with one another, thereby enhancing the co-ordination of the response to those various incidents."
Mr Killens replied that it could have been possible, before adding: "I think it's highly unlikely that the control room would have considered sending a message to each of those three officers saying the other two are in these locations."
Mobile phone networks in London became overloaded on the day of the attacks as millions of people called friends and relatives to check they were safe.
'Inaccurate' government review
LAS started using pagers again within a week of the attacks, the inquests heard.
The hearings, at the Royal Courts of Justice in London, were also told that the government's official review of the emergency response to the suicide bombings incorrectly claimed that rescuers were not held up by communication problems.
Published in September 2006, the report stated: "It has been suggested that failures in the telecommunication equipment used by the emergency services led to a delay in rescuing those caught up in the attacks.
"This is not the case. Although there were difficulties, responders were on scene within minutes of receiving 999 calls."
Referring to that report, Mr Coltart said: "To the extent that either the bereaved families or the wider public at large have previously relied upon the assertion contained within that report, I think it's open to us to confirm now, isn't it, that that's no longer accurate?"
Mr Killens answered that, based on the evidence aired at the hearings, "that's not an accurate reflection of what took place".