Mid-East unrest: Arab states seek London PR facelift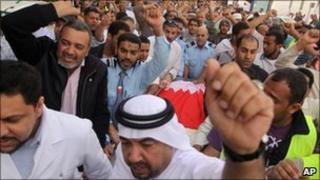 Over the past two months, as unrest spread across the Middle East, from Tunisia to Bahrain, many Western journalists were discreetly contacted by PR agencies acting for Arab leaders trying desperately to stem the flow of negative headlines.
The UK has become a global centre for this kind of international PR.
The industry is less regulated than in the US. The British government has said it wants to introduce more regulation to PR and lobbying.
But transparency campaigners believe the government is not taking the issue seriously enough.
Facelift for reputations
Soho in central London is the home of Britain's media, advertising and PR industries. The latter is estimated to be worth well over £7bn (US$11bn) a year.
But it is not just companies who head to Soho to burnish their brands - whole countries come too.
London is becoming a global hub for governments and world leaders - some of them with very questionable human rights records - who want to give their reputations in the west a bit of a facelift.
"I would imagine that all of those (countries) are represented in some way or another by a UK-based PR agency," Nick Allan told me in one of Soho's most exclusive clubs, as I showed him a list of Arab states that included Egypt, Tunisia, Jordan, Saudi Arabia and Bahrain.
Nick Allan spent 20 years working for Britain's Foreign Office. Now he is an independent PR consultant. Although he does not currently represent any foreign governments, he has in the past had to deal with what he calls "difficult regimes".
"The key is to change the narrative about that regime. So you can't change the fact that it's a dictatorship, there's only so much lipstick you can put on a dictator, but you can certainly try to change the narrative by pointing to as many positives as you can."
In practice, Mr Allan says, the work would include drafting and placing articles in newspapers, introducing journalists to members of the government in question, or organising trips to that country. Often the PR agency will also try to squash negative stories.
"Quite often what you're doing is just pure damage limitation. There's an article in the press that your client doesn't like, and they are screaming at you down the phone to 'close the story down', do whatever you can to make the story go away.
"A lot of PR agencies will employ media lawyers to do exactly this: to write to the editors, to put as much pressure as possible on the editor or the newspaper to not run the story."
But why would a company want to represent a regime like Colonel Gaddafi's Libya?
The obvious answer is, of course, money. Contracts can be worth millions of dollars a year.
But there is also a strand of opinion which says that, just as in a legal case, every country is entitled to a defence in the court of international public opinion.
'Shooting from rooftops'
But, for some at least, there are limits.
Until early 2011, the Tunisian government was represented in the US by a Washington-based PR company, Washington Media Group. The company's president, Greg Vistica, said there came a moment in January when he had to re-evaluate.
"When the protests began we monitored them quite closely. And at the end of the day we decided that we could not work for a country that was shooting its citizens from rooftops, and based on principle we decided to drop them as a client."
Mr Vistica says that, as a PR-company, you go into a relationship with a country like Tunisia "with your eyes wide open." The question of whether or not to represent a particular country is an individual and an ethical decision, not a legal one.
But in the United States if a PR-company takes on a foreign government as a client, it has to register that fact with the justice department. In the UK there is currently no such legislation, and so it is often very difficult to work out exactly who a company represents.
In the UK, when it comes to representing foreign governments, one company name comes up way more than any other: Bell Pottinger.
Bell Pottinger is run by Lord Tim Bell, formerly of Saatchi and Saatchi, the firm that ran many campaigns for former UK Prime Minister Margaret Thatcher during the 1980s.
The company, or part of it, is based in a rather anonymous, eight-story modern building just a short walk away from Soho, near the Royal Courts of Justice.
Bell Pottinger represents the government of Bahrain, and in recent days has also been writing to journalists on behalf of a member of the Libyan royal family, overthrown by Col Gaddafi in 1969.
They almost certainly represent other governments in the region too. But a spokeswoman for Lord Bell told the BBC it did not as a matter of policy comment on its list of clients, nor did anyone from the company wish to give an interview.
"I think what's important in the debate is the issue of transparency," says Nick Allan.
"I think we do owe it to the general public. People need to be able to make up their own minds where information is coming from. And if you're not transparent, you can never be sure."
On Tuesday, three PR and lobbying bodies will come together to launch a new umbrella organisation called the UK Public Affairs Council, or UKPAC.
Companies that sign up to UKPAC will have to adhere to a code of conduct and publish a list of their clients. But membership will be voluntary.
"Basically the lobbying industry have set this up to stave off statutory regulation," says Tamasin Cave, from the Alliance for Lobbying Transparency.
"The coalition government have committed in their agreement in May to set up a statutory system. And I think the lobbying industry are hoping that this voluntary register will actually take its place. It will be a form of transparency-light."
Even within the industry people are divided. Some people are pushing hard to keep Britain's rather lax PR laws exactly as they are.
Others, though, feel that unless they demonstrate they are serious about more transparent self-regulation, the government will step in and do it for them, under a cloud of public suspicion.