Papers criticise defence cuts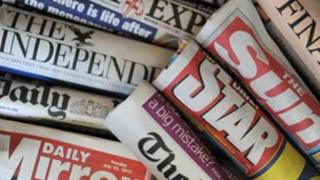 The government's announcement of cuts in the armed forces comes in for a great deal of criticism.
The Times says the weakness of Britain's defences was exposed as the government confirmed thousands of jobs losses across the services.
It said this came just hours after David Cameron attempted to take a lead role in the Libyan crisis.
The Daily Express says "to reduce defence capabilities as severely as proposed is asking for trouble".
'Indefensible'
The Daily Telegraph launches an all-out attack on the government on the defence cuts.
"A gung-ho David Cameron spent Monday afternoon firing off the most blood-curdling threats in the direction of Colonel Gaddafi," it says.
Some 23 hours later, 11,000 service personnel were told they face the sack as part of defence cuts.
"It is hard to imagine a more crass and cack-handed display at a time of international uncertainty." Meanwhile, the Sun calls it "indefensible".
'Potty perks'
The Home Secretary is apparently about to put herself on what the Sun calls a "collision course with the police" by insisting their pay and perks must be slashed to avoid job losses.
The paper says many of the perks are "potty," currently it says, some officers get to pocket four hours overtime simply by answering a phone between shifts.
The Daily Mail sees the announcement as "explosive" and says previous attempts at reform have had to be abandoned in the face of overwhelming opposition.
European ruling
There's a lot of reaction to the ruling by the European Court of Justice outlawing gender discrimination by insurance companies.
The Guardian and Independent support the decision but most papers are, like the Daily Express "outraged".
The Daily Telegraph demands to know what David Cameron proposes to do about the regulatory burdens imposed by Brussels.
The Daily Mail says it is another reminder of how the UK is not in control of its own affairs.