Defence Secretary Fox defends RAF job cuts announcement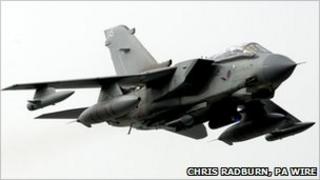 Defence Secretary Liam Fox has defended the timing of an announcement about RAF job losses which coincided with talk of a possible no-fly zone over Libya.
Dr Fox said redundancy was "never a painless process" but a timetable needed to be adhered to for the sake of service personnel and their families.
On Tuesday, the government said 1,020 RAF jobs would go by September, with another 1,680 to follow.
Labour had accused Dr Fox of failing to fully answer questions on the matter.
Prime Minister David Cameron has asked the Ministry of Defence and the chief of the defence staff to work with allies on plans for a military no-fly zone over troubled Libya.
If put into practice, this would stretch the armed forces even further at a time when operations in Afghanistan are still ongoing.
Shadow defence secretary Jim Murphy summoned his counterpart to the Commons to make a statement on the redundancies, and criticised Tuesday's written ministerial statement which, he said contained a "fraction" of what was briefed to the media.
"Some will think that's because on the day they were discussing a no-fly zone over Libya, the government didn't want to defend in the Commons the 2,700 redundancies in the RAF," he said.
'Betrayal of trust'
Dr Fox told the Commons: "Redundancy is never a painless process, whether in the armed forces or elsewhere, and it is sad to see committed and patriotic men and women lose their jobs."
But, he said, it was essential that service personnel were made "fully aware of the options available and the timescales involved".
"That means that a timetable needs to be adhered to for the sake of themselves and their families," he said.
"To delay that for political expediency would have been to betray their trust. And difficult though it may be, in this government political convenience will not be the final arbiter of our decisions."
The armed forces is looking to shed 17,000 posts over the next four years.
Prime Minister David Cameron has said "difficult" decisions had to be made, but the government had inherited a defence budget, overspent by £38bn.
The possibility of a no-fly zone was first raised in the Commons on Monday by Mr Cameron.
In the Commons earlier, Labour's Ed Miliband said a number of foreign governments had since "distanced themselves" from the idea, but Mr Cameron insisted it was right for military chiefs to be looking at plans.