7/7 inquests: Ambulance chief defends response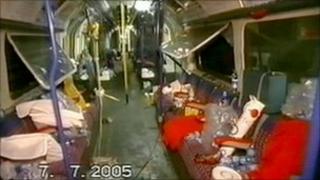 An ambulance chief has defended paramedics who delayed going underground for 30 minutes to treat bomb victims on 7 July 2005.
Suicide bomber Germaine Lindsay killed 26 people on the Tube network between King's Cross and Russell Square.
Dr Fionna Moore, of London Ambulance Service, told the inquests into the attacks there was a shortage of information for paramedics to act on.
Four suicide bombers killed 52 people on London's transport network.
Paramedics arrived at King's Cross station about 20 minutes after the explosion but they waited to triage - prioritise - passengers above ground rather than go underground.
Some victims had made it out and were walking away but below ground the scene was horrific.
Neil Saunders, a barrister for 10 bereaved families, said a paramedic had explained that "there was a considerable amount of triaging at the surface - that shouldn't have happened".
He said: "They were clearly P3s [the least badly injured] coming from the Underground to the surface. Is that right?"
To this, Dr Moore answered: "I think it is very easy with the benefit of hindsight to say somebody should have gone down to find out exactly what was happening."
She said: "Given the reality of the situation... the number of very seriously injured casualties and fatalities were in the most distant carriage.
"I can see the situation in my mind's eye of being approached by a very large number of people, some with very clear injuries, and feeling that because there weren't that many people at the time, we had to deal with them because they had the most immediate need."
Dr Moore said paramedics needed better information.
However, she added: "Yes, in an ideal situation it would have been better that somebody went down to undertake clinical assessment."