MPs back control orders extension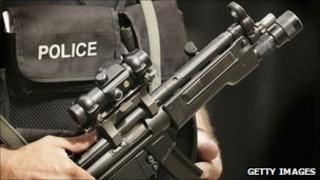 Eight suspected terrorists will remain on control orders while the government introduces their replacement.
Control orders were due to run out before T-Pims (Terrorism Prevention and Investigation Measures) are introduced.
Ministers sought to extend control orders until the end of the year so suspects would not go free and MPs passed the extension without a vote.
Control orders place terrorism suspects under close supervision that critics say is similar to house arrest.
They are used on individuals who cannot be prosecuted or deported.
Limits imposed on the subject of control orders include being banned from using the internet, stopped from meeting certain people and being forced to obey overnight curfews.
Commenting on the bid to extend control orders, Junior Home Office minister James Brokenshire said: "The threat to the UK from international terrorism is as serious as we have faced at any time."
He said a number of terror plots had been uncovered over the past year.
"Our reluctant assessment is there will continue to be a need for a mechanism to protect the public from the threat such individuals pose," said the minister.
'Necessary evil'
He said it would be "irresponsible to allow the current regime to lapse in the absence of alternative measures".
"Pending the introduction of their replacement, it's essential these powers continue to be available to protect the public," said Mr Brokenshire.
Shadow Home Office minister Gerry Sutcliffe pledged Labour's support for renewing the orders.
"It's our duty to provide the security services and police with the tools and procedures for them to do their job effectively," he said, adding that "there shouldn't be any room for complacency".
"Until an alternative has come forward that gives that same level of consistency, we have to accept they have become a necessary evil," said Mr Sutcliffe.
Meanwhile, Tom Brake, co-chairman of the Liberal Democrat Parliamentary Policy Committee on Home Affairs, said MPs had no choice but to extend control orders.
However, in reference to the replacement measures, he said: "Whatever is replaced as an alternative, clearly it has got to be a qualitative improvement from a civil liberties perspective, and indeed I believe from a security perspective, on what was there before."
Mr Brake said MPs had until the end of the year to "flesh out what the alternative is going to be" and address some "fundamental civil liberties considerations which require further clarification".
In January, Home Secretary Theresa May revealed T-Pims would replace control orders.
She said the new approach would be more "focused and flexible" but critics have said the new system was little more than "control orders lite".