7/7 inquests: Final witnesses give evidence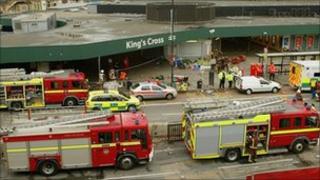 The final witness has given evidence at the inquests into the deaths of those killed in the 7 July attacks in London six years ago.
The coroner's officer, Det Ch Supt Doug McKenna, debunked conspiracy theories including the idea that explosives were placed under Tube carriages.
Coroner Lady Justice Hallett is expected to deliver verdicts before 20 April when the court rises for Easter.
Four suicide bombers killed 52 people on London's transport network in 2005.
The attacks were carried out by Mohammad Sidique Khan, 30, Shehzad Tanweer, 22, Hasib Hussain, 18, and Germaine Lindsay, 19.
They targeted Tube trains at Aldgate, Edgware Road and Russell Square, and a bus in Tavistock Square.
The inquests, which heard from 309 witnesses and had a further 197 statements read, were held at the Royal Courts of Justice in London and have been running for almost five months.
They generated 34,000 documents and the case was described by Mr McKenna as "probably been the largest ever criminal investigation conducted by the Metropolitan Police".
Dismissing various conspiracy theories surrounding the 2005 bombings, he said there was nothing to link the explosives to terrorist exercises carried out before 7/7 and nothing suggesting the explosives were detonated by anyone other than the four suicide bombers.
He also rejected suggestions that there was a possible fifth bomber who had been seen with the quartet at Luton railway station as they travelled to the capital.
"There is nothing to suggest any contact between the four bombers and any other person at Luton railway station," he said.
The penultimate witness, Gary Reason - assistant commissioner of London Fire Brigade - focused largely on the fire service's actions at King's Cross.
The inquest had heard that there was a delay of nearly 30 minutes in getting firefighters into the station and that they delayed, thinking there could be a chemical or biological attack below - despite travellers emerging showing no signs of this.
He responded to a line of questioning about the delay by saying: "If the command structure is working correctly as it is designed to do then the associated resources will get a briefing about those hazards," adding that this meant "firefighters and other agencies will be deployed accordingly".
The inquests have heard evidence about each of the scenes from survivors and members of the emergency services and transport staff who responded after the bombings.
Verdict wait
They also heard evidence of the investigation into the bomb plot and the bombers' backgrounds.
Evidence of what the security services knew about the bombers was heard, in a bid to try and ascertain whether chances to prevent the attacks were missed.
The confusion of emergency services and transport controllers as the situation emerged has also been revealed in evidence.
Two days have been set aside for legal argument, on 10 and 11 March, during which concerned parties will have a chance to comment on the evidence and the scope for verdicts.
The coroner will retire after that.
Although Lady Justice Hallett has not indicated how long it will be before she comes back to court with verdicts, it is expected to be before the court rises for Easter.
'No stone unturned'
She finished by thanking the victims' families for their dignity and reflecting on the last five months.
"I consider it such a huge achievement to get through such a huge quantity of material and particularly given the harrowing nature of it," she said.
"I know that a number of bereaved families have stayed with us for the bulk of the proceedings.
"I hope that they and those who have followed it at a distance and the survivors will feel that we have conducted a thorough and robust investigation, whatever my conclusions may eventually be and whether or not they eventually agree with them."
Lady Justice Hallett said she hoped bereaved families "will agree we have left no reasonable stone unturned".
"I would like to thank them for acting throughout, in the most appallingly distressing circumstances at times, with the dignity and restraint that they have shown," she said.