Newspaper review: Focus on Gaddafi battle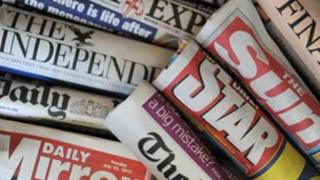 Most of the papers have in-depth reports on what the Daily Telegraph calls "Gaddafi's bloody onslaught".
It describes how pro-Gaddafi forces launched an offensive in the east of Libya to try to regain ground.
It says it seemed a hopeless cause, yet the rebels held the line and even appeared to push Gaddafi's forces back.
The Sun is more emphatic - claiming that the Libyan leader's counter-attack was a flop and that his forces fled with their tails between their legs.
'Decisive day'
Nevertheless, the Daily Mail claims this was the day the revolution in the east got a wake-up call.
And the Guardian is left wondering "is this the start of civil war?" as correspondent Martin Chulov describes a "decisive day" in the conflict.
Images of the conflict in Libya fill much of the Independent's front-page.
It is partly obscured by a black box containing a defiant phrase from Colonel Gaddafi's speech on Wednesday which says "to the last man".
Religious extremism
Violence in Pakistan also preoccupies many of the papers after the murder of a Christian government minister, Shahbaz Bhatti.
He had campaigned against the country's blasphemy laws.
The Independent says an atmosphere of intolerance and religious extremism now pervades and that it is a nation on the verge of democratic collapse.
The Times points the finger at the Pakistani government who it says has countered fanaticism with feebleness.
Cricketing victory
There's praise for Ireland's cricketers after they defeated England in one of the a biggest upsets in the World Cup.
"England fall to the pluck of the Irish" says the Daily Express, while the Daily Mirror calls England's performance "shambolic".
The Times says the victory is the equivalent of a snarling, two-fingered salute to the mainstream.
And the Daily Telegraph says the Irish have showed emphatically that they deserve to play with the big boys.