Libya refugees: UK begins rescue mission from Tunisia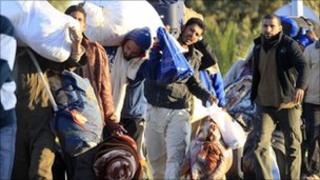 British flights have begun rescuing people who are stranded on the Libyan-Tunisian border and fleeing violence.
Some 800 people have already been picked up from Djerba airport in Tunisia and flown to Cairo by three UK-chartered planes.
It comes as Foreign Secretary William Hague is due to hold talks over Libya and the Middle East with his French counterpart.
Meanwhile, UK charities are warning of a "potential humanitarian crisis".
Prime Minister David Cameron announced the evacuation flights in the House of Commons on Wednesday. He also said Department for International Development (DfID) teams had been sent to the border area.
International Development Secretary Andrew Mitchell is travelling to Tunisia to view Britain's humanitarian effort on the ground.
Migrant workers
The move came after United Nations Secretary General Ban Ki-moon appealed for an international airlift to prevent a "humanitarian crisis" in makeshift camps where refugees are housed.
Between 80,000 and 90,000 people have fled to Tunisia since the unrest in Libya began, estimates the UN refugee agency UNHCR.
Over the coming days, it is expected the aircraft - a Thomas Cook plane, a Titan Airways charter and a third UK plane sent from Italy - will take up to 6,000 Egyptians to Cairo. Most of them are migrant workers who have been unable to return home.
A spokesman for Titan Airways said its plane on Wednesday had taken 198 people from Djerba airport to Cairo airport.
Another flight is due to fly from Djerba to Cairo at 1240 GMT on Thursday, with a further flight departing at 1000 GMT on Friday, he said, adding that he expected both to be full to capacity.
France and Spain have also announced that they are sending planes to help with the airlift.
The Foreign Office said Mr Hague and the French Foreign Minister Alain Juppe would be discussing bilateral co-operation later.
The Tunisian government has also said it will provide more than 40 extra flights to transport 8,000 people.
Crisis warning
Meanwhile, DfID has flown out 36,000 blankets and tents for 1,500 people in Tunisia.
Libyan leader Col Muammar Gaddafi has said on TV he will "fight until the last man and woman" and has warned that thousands of Libyans will die if Western forces intervene.
David Bull, executive director of Unicef UK - which has launched a crisis appeal to raise £4.5m for women and children in Libya, Tunisia and Egypt - said the charity was expecting the number of refugees to climb into the hundreds of thousands if the unrest continued.
"Critical facilities such as clinics and hospitals are not open for a variety of reasons, food supply routes have been disrupted and Libyan children and their families are facing a potential humanitarian crisis," he said.
Save the Children has also warned that more than a million children in western Libya are in serious danger as government forces battle with protesters for control of key towns and cities.
Meanwhile, Downing Street has insisted that the Cabinet was "absolutely" in agreement over government policy on Libya, and the UK was not alone in looking at the possibility of a no-fly zone.
The prime minister's spokesman said the focus was on diplomatic and humanitarian efforts and the issue of the no-fly zone was part of "contingency planning".