Cosmetic surgery: Guides aim to discourage girls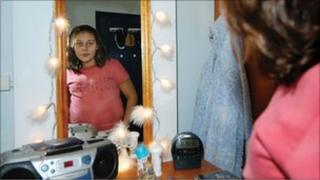 Guide leaders have launched a campaign to discourage teenage girls from having plastic surgery after national surveys suggest almost half would consider it.
An interactive website Give Yourself A Chance offers 12- to 16-year-olds tips on how to boost their self-confidence.
Girlguiding UK says its "shocking" surveys show up to 48% of girls aged 16 to 21 would consider cosmetic surgery.
They also suggest 47% of girls think the pressure to look attractive is the most negative part of being female.
The organisation's campaign allows girls to read real-life stories from others who have struggled with eating disorders, cosmetic issues and body angst.
Body image
Spokeswoman Cathy Fraser said: "Our research has shown the shocking extent to which girls would consider drastic action to change the way they look.
"Working closely with girls and young women, we are all too aware of the pressures they face to conform to a certain body image.
"Give Yourself A Chance encourages girls to boost their self-confidence without cosmetic surgery and to give themselves the opportunity to develop fully."
Its 2009 and 2010 national polls of girls aged seven to 21 surveyed 1,109 and 1,200 girls respectively. They revealed:
More than 10% aged 11 to 16 would consider cosmetic surgery to change the way they look
Girls as young as 10 want to be thin, with half aged 11 to 16 eating less to stay slim
One in eight aged 11 to 16 would consider having a gastric band or plastic surgery; and
One in 20 would think about Botox
In 2009, Girlguiding UK backed a campaign by the Liberal Democrats calling for adverts aimed at under-16s which used airbrushed pictures of models to be banned.
Minister for equalities Lynne Featherstone said: "The constant pressure to look impossibly perfect, be like skinny celebrities and conform to imposed stereotypes is creating a rising tide of low self-esteem, depression and anxiety amongst young girls and increasingly boys.
"I want young girls to feel valued not because of what they look like but for what they can contribute and achieve."