7/7 inquests: Julie Nicholson gives moving account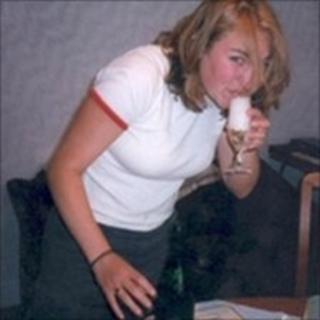 As evidence at the 7 July inquests ends, a mother whose daughter died at Edgware Road reflects on proceedings. In this moving account, Julie Nicholson says "humanity flowed through the courtroom".
At the start of the inquests into the 7 July London suicide bombings of 2005, I was asked what I hoped for, what expectations I had.
Given that I already knew so much surrounding the death of my daughter Jenny in that horror, it was a reasonable question.
In one sense, there was not a lot more to learn about the manner of Jenny's death or the circumstances surrounding it, beyond what I already knew.
However, much of the early information conveyed by police and coroner was absorbed in a state of shock and trauma.
Over the last five years I have amassed much information, many parts of the whole picture, but it is fragmentary: a bag of jigsaw pieces.
'Conspiracy theories'
My expectation was that the inquest would be an opportunity to gain a fuller picture, as all the constituent parts were collated, set out, scrutinised and put together in a cohesive way.
Since July 2005, families have been prey to conspiracy theories, media reports and question marks over whether 7/7 might or could have been prevented.
There are collective and generic concerns as well as individual ones, unique to each family.
My daughter did not survive the explosion. I've had the comparative consolation, poor as it is, that Jenny's life could not have been saved even had emergency teams and medical assistance reached her within minutes.
There are other families who did not have that assurance.
There were many questions to be asked formally relating to response times of emergency services, resources, communication and not least, what may or may not have been known about the four suicide bombers.
It has taken over five years to reach this point and I have been acutely aware that this was probably the last opportunity to have the events of that awful day rigorously examined and assessed properly, and through appropriate judicial proceedings.
I have travelled regularly, often daily, to attend, dedicating the last five months to the business of the inquest, putting work and much of the routine of life on hold to attend to this one last thing.
Throughout proceedings, my overriding attitude has been one of pragmatism.
All cannot be made whole; there will remain areas of fuzziness even though a clearer overall picture might evolve.
Over this time, there have been those who have wondered why, questioning what good it can do or what I hope to gain?
Why would I put myself through the revisiting, re-engagement and trauma of all the horrific details?
I feel I owe it to my daughter to do all I can to gather as much information, clarity and understanding of the whole event as is possible. Quite simply, I have been attending in honour of my daughter.
The inquest has been a gathering up, a re-collection of all the elements of the day, put under rigorous scrutiny by Lady Justice Hallett and her excellent team.
'Courageous acts'
I have listened carefully, even through the tedium and frustration of command procedures and protocols, trying to distil some sense and meaning.
I have marvelled at the usage and abusage of the English language as it has been applied by various agencies to the jargon of manuals and phrases packed with acronyms.
From my lay, possibly plebeian perspective, I continue to marvel at mobile phones that "fell over"; "fast win" outcomes; "ICCSs", "CBRNs", "NCCs" and the like.
Although deeply frustrating, the overabundance of acronyms at times had its ludicrous and humorous side.
Now the inquest has come to an end as far as the hearing of evidence is concerned, I am left with a sense of "so be it".
As another parent put it, the proceedings have taken on an "end of term" air, a winding down.
It has been both moving and harrowing listening to the stories and testimonies of those people deeply affected by their experiences.
Through courageous acts, bravery, pain and suffering, appalling injuries, fortitude and near-death experiences, humanity flowed through the courtroom like a river as people spoke of their experiences.
Dame Heather [Hallett] did not merely thank each of the witnesses for their contribution and help to the inquest, she thanked them uniquely and deeply.
She has been superb in conducting these proceedings. I cannot speak highly enough of the way in which she has attended to everything and everyone.
I do not believe the inquests could have been conducted with more humanity, rigour, attention to detail and professionalism than they have been.
From the outset, Dame Heather made it clear that she would be guided by the law. I believe that law and structure has served the inquest, the 52 who were killed and the nation in more ways than can be articulated here.
Collectively, questions have been addressed. All interested parties have been given the opportunity to have a voice, whether through the support of legal teams or on their own behalf.
Sitting through proceedings, listening, has been a valuable process and brought me to a point where I believe I can leave the business side of my daughter's death in its rightful place.
The rest can be safely and confidently left with Dame Heather and her team to conclude.