Medicine labels to be made clearer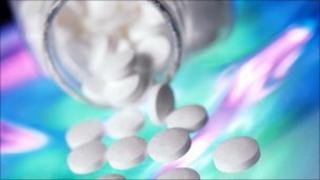 Familiar phrases on medicine labels are likely to change after a report claimed some of them were confusing.
The study was commissioned by the British National Formulary, the textbook used by pharmacists, doctors and nurses for drug information.
It said phrases like "avoid alcoholic drink" could be misinterpreted and recommends "do not drink alcohol while taking this medicine" instead.
The changes are likely to be seen on packets and bottles within six months.
'Simple and straightforward'
The research was carried out at the University of Leeds by Theo Raynor, professor of pharmacy practice, and his colleagues.
He said: "Most medicines do contain leaflets which provide detailed information for patients.
"However the leaflet may get lost, which means that the label on the medicine plays a very important part in guiding people's behaviour. It is vital therefore that wordings on labels are simple and straightforward."
They reworded phrases that people found confusing, and then retested them in several sittings, including one-to-one interviews.
Prof Raynor said "avoid alcoholic drinks" was a good example.
"Our user tests have shown that the word 'avoid' can cause confusion and that some people think it only means they should limit their alcohol intake.
"This phrase will now be replaced by the instruction: 'Do not drink alcohol while taking this medicine,' which is far clearer."
Other phrases changing include "Do not take indigestion remedies at the same time of day as this medicine" which will become "Do not take indigestion remedies two hours before or after you take this medicine".
And "Do not stop taking this medicine except on your doctor's advice", becomes "Warning: Do not stop taking this medicine unless your doctor tells you to stop".
Nick Barber, professor of pharmacy at the University of London, said: "When serious errors occur which cause harm to patients, it is often as a result of a series of minor failures at various stages.
"Therefore in taking more care about the wording of detailed instructions we can help improve the safety of medicines.
"With two million prescriptions being issued every day, a small percentage improvement through labels being more understandable could make a significant impact".
Duncan Enright, publishing director at BNF publications, said it had never been easier to change labels on medicines given current computerised systems.
"We hope that the large pharmacy chains and independent pharmacies will adopt these recommendations."