LSE Libya links discussed in papers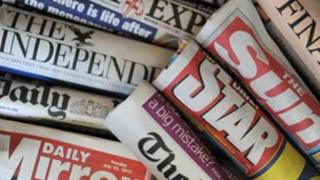 The resignation of the director of the London School of Economics over links to Gaddafi's regime is the Times' lead.
It says Sir Howard Davies faced "intense pressure", following the paper's disclosure the LSE agreed to train members of the dictatorship's "future elite".
The Guardian's Simon Jenkins is sympathetic to Sir Howard's plight. "Pity the poor university," he says.
"Told for 25 years to get into bed with big money", the LSE found that "big money sometimes stinks," he says.
Future leaders
As for Libya itself, the Financial Times believes the country is "lurching dangerously" towards "full civil war".
But the Daily Telegraph says British officials have held talks with former allies of Col Gaddafi, to identify "potential future leaders".
One such candidate is General Obaidi, a former interior minister and head of Libyan special forces.
A source tells the paper that he's someone Britain "could do business with" in the post-Gaddafi era.
'Iron grip'
There are dire warnings of the consequences of the government's decision to let Rupert Murdoch's bid for the whole of BSkyB proceed.
The Daily Mail foresees a "behemoth". A "monster" says the Guardian.
Steve Richard in the Independent says Mr Murdoch's "iron grip on Britain's political culture" is "getting tighter".
The Daily Telegraph is one the papers to dismiss the promised independent chairman for Sky News as a "figleaf".
Swimming pool
One family who don't appear to be feeling the effects of higher fuel and food prices are the Frosts, of Rossington in South Yorkshire.
A view of their modest council house on Google Earth printed in the Sun reveals a sizeable swimming pool installed in the back garden.
Local authority inspectors are investigating, says the paper.
Mrs Frost is unrepentant, telling the Daily Mail: "We do let the neighbours use it in the summer."