Libyan currency worth £100m seized by Home Office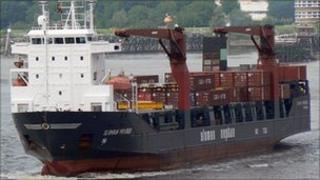 Libyan currency worth £100m ($162m; 200m Libyan dinars) has been impounded from a ship, the Home Office has said.
The ship was intercepted by UK authorities after heading back to British waters following an aborted attempt to dock at Tripoli.
The money, which was printed in north-east England and impounded at Harwich, has been taken to a secure location.
The Home Office said the cargo, "a significant quantity" of Libyan currency, is subject to a UN sanction.
A Home Office spokesman said the vessel, which is called the Sloman Provider and operated by a German company based in Bremen, returned to the UK on Wednesday after initially heading to Libya.
"A number of containers were offloaded from the boat and have been taken under control of UK Border Agency and have been moved to a secure location," he said.
The spokesman said HMC Vigilant, a cutter, escorted the ship back to the UK.
However, a senior official at Sloman Neptun, the company which operates the vessel, questioned the claim that the ship was escorted back by the UK Border Authority.
Libyan unrest
He said that once back at Harwich, the container containing the "printed matter" was taken off the ship and taken back to where it came from by British authorities.
It is thought that the ship failed to berth in Tripoli last weekend because her crew believed it was too dangerous.
It comes amid continued unrest in Libya where rebels have seized control of much of the country in an effort to end Col Gaddafi's 41-year rule.
Libyan leader Col Muammar Gaddafi's £900m of UK-based assets were frozen by Chancellor George Osborne last weekend.
Mr Osborne told the BBC: "It's all about closing the net on Col Gaddafi - seizing his bank notes, freezing his back accounts, making sure that he is held to account for the persecution of his people."
He added: "We are closely monitoring other bank accounts that may be linked to the Libyan regime and freezing those where appropriate."
In line with UN sanctions, the UK has also banned the unlicensed export of any uncirculated Libyan banknotes from Britain.
The UN Security Council voted unanimously to impose sanctions on the Libyan leader's regime for its attempts to put down the uprising.
It backed an arms embargo and asset freeze while referring Col Gaddafi to the International Criminal Court for alleged crimes against humanity.
The UN estimates more than 1,000 people have died as a result of the regime's attempts to quell the revolt.