Prime Minister David Cameron's baby Florence christened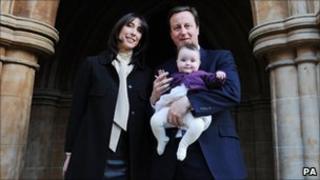 The daughter of Prime Minister David Cameron and his wife Samantha has been christened in front of family and friends at a ceremony in London.
The private event for six-month-old Florence took place at St Mary Abbots Church in Kensington, west London.
About 90 guests attended the ceremony, which lasted for 45 minutes.
Florence Rose Endellion was born during a holiday in August and named in honour of St Endellion, the village near where her parents stayed in Cornwall.
The Camerons' first child, Ivan, who was born profoundly disabled and needed round the clock care, died in February 2009.
They have two other children, Nancy and Arthur, who are six and four years old respectively.