Saturday's papers make uncomfortable reading for Duke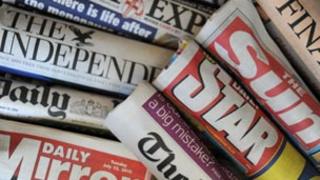 Several papers will make uncomfortable reading for the Duke of York.
The Guardian says Prince Andrew entertained a leading member of the Tunisian regime at Buckingham Palace three months before it collapsed.
The paper says Sakher al-Materi - a son-in-law of President Zine al-Abidine Ben Ali - fled Tunisia and is under investigation for money laundering.
The Guardian says Britain's decision to ignore corruption in Tunisia has put the Duke in an awkward position.
The Daily Telegraph says the Duke is under pressure to quit his trade role after he used a Gulf trip to try to find a buyer for his Berkshire mansion.
The Daily Mail reports that the Duke has agreed to sever his links to a child sex offender.
'Unwise'
He has admitted it was "unwise" to meet the disgraced billionaire Jeffrey Epstein.
He has ruled out any more trips to the hedge fund tycoon's mansion in southern Florida.
There is praise from The Independent for Sir Howard Davies for resigning as director of the LSE over money it received from the Gaddafi regime.
But the paper believes his departure must not lead to awkward questions about foreign money in British academia being swept under the carpet.
The Financial Times says British universities are under pressure to explain links to autocratic regimes.
And the Times says universities need to examine their consciences.
The Independent calls the Barnsley Central by-election result a "startling humiliation" for the Liberal Democrats who were relegated to sixth place.
The Sun's editorial urges the coalition not to be discouraged having discovered just how tough it is to rule what the paper calls "stony-broke Britain".
The Daily Mirror says Nick Clegg's brief reign as Britain's most popular politician must have felt like a dream.
It says the outcome puts Mr Clegg's leadership of the party in doubt.