NZ quake: Family's tribute to UK victim Gregory Tobin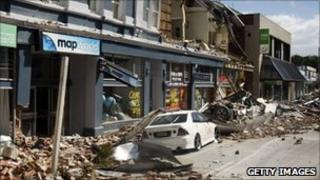 The family of a British victim of the New Zealand earthquake has paid tribute to his "vibrance and social spirit".
Gregory Tobin, a chef from Tadcaster, in North Yorkshire, had been working in Christchurch, in the South Island, as part of a round-the-world trip.
In a statement, his family praised the city's "fortitude and resilience" in the wake of February's earthquake.
Four Britons are thought to have died, but Mr Tobin, 25, is the only one to have had their details confirmed.
His family's statement, released by the British High Commission, said: "It is with a heavy heart that we must thank this city of Christchurch and the international community at large for their help and generosity through these darker times.
"As we mourn the loss of our son and brother Greg Tobin, we remember his vibrance and social spirit which we have come to realise embodies this entire island and is the reason why Greg felt comfortable enough to call Christchurch his home."
The statement went on to thank search and rescue teams, firefighters and British High Commission staff "who left their families to help ours".
'Resilient'
It also expressed thanks to New Zealand police, as well as "the owners and staff of Joe's Garage who adopted Greg as their own, our friends and family, old and new, who have kept the torch burning and to the family whose wing we have been taken under - we are eternally grateful.
"The fortitude and resilience of the people of Christchurch leave us in no doubt that they will rebuild this city."
The confirmed death toll in Christchurch stands at 165 after two more bodies were found in the rubble of the Canterbury TV building.
However, search teams have reacted with relief after finding no bodies in the rubble of the earthquake-hit cathedral.
It had been feared that as many as 22 people could have been inside the cathedral when the quake struck on 22 February.