Yemen: Foreign Office travel advice tightened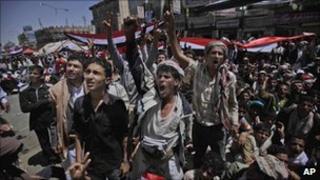 The Foreign Office is warning Britons against all travel to the Middle Eastern state of Yemen.
Officials say the advice has been reviewed and reissued because of increasing violence in the country.
UK nationals already in Yemen without a pressing need to stay are advised to leave using commercial travel services.
There have been protests against the government in several cities, and there are reports of clashes between police and demonstrators.
The Foreign Office says there are reports of violence being used to disperse crowds, and of a number of deaths.
Further protests are expected, say officials, and violence is likely.
The previous travel advice recommended against all but essential travel to Yemen, including the main cities of Sana'a and Aden, because of the threat of terrorism, kidnapping and tribal violence.
It also advised against all travel to the northern region of Sa'ada, where Shia rebels have been active since 2004.
Unrest
Demonstrators are calling for the resignation of President Ali Abdullah Saleh, who has ruled since 1978.
They say they are frustrated about government corruption and about soaring unemployment.
In one of the latest incidents, rebels say the army fired rockets at an anti-government protest in northern Yemen, killing two people.
President Saleh has rejected an opposition plan under which he would step down from power this year. He intends to serve his full term in office, which ends in 2013.
He has blamed the US and Israel for the unrest in Yemen and across the Arab world.
Yemen is one of only four countries where the Foreign Office currently advises against all travel.
The other three are Libya, Ivory Coast and Somalia.